Hartlepool United: Borough Council agrees loan to help club pay March wage bill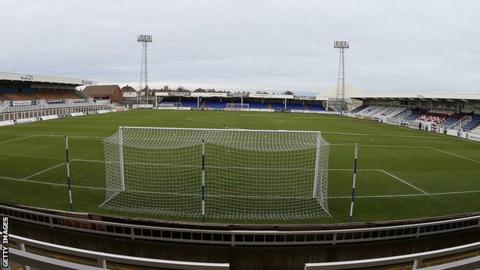 Hartlepool Borough Council have made a short-term loan of £77,500 to Hartlepool United to help cover March's wage bill.
Pools chief executive Pam Duxbury made the request as negotiations continue to sell the club to Teesside businessman Raj Singh.
Funds will be repaid by Pools once transfer fee instalments underwritten by the Football League are received.
The council say the loan will be repaid in full by 1 September, 2018.
Councillor Christopher Akers-Belcher said: "Working alongside senior council officers, councillor Ray Martin-Wells and I have carefully considered the latest request from Hartlepool United to provide a temporary loan of £77,500.
"Football League rules underwrite transfer fee instalments so there is limited risk in relation to these monies being repaid. As an added safeguard, Hartlepool Borough Council has agreed with the Football League and the individual clubs that will be making the future transfer fees that these monies will be paid directly to the council."
Previously funds raised by the club's supporters' trust, who are keen to help the consortium in their takeover bid, have been used to meet salary costs and HM Revenue and Customs bills.