Football's last chance saloon - the Britons keeping their dreams alive in Sweden
By Steve Sutcliffe
BBC Sport
Last updated on .From the section European Football69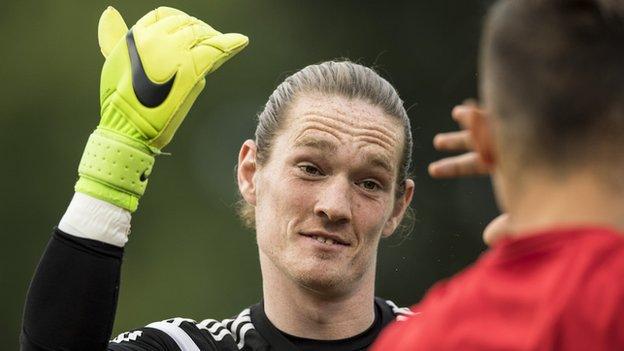 What started as a trickle nearly a decade ago, with two young English players attempting to revive their dreams, now sees a stream of about 30 young players from EFL clubs head to Sweden each year.
The success story of Ostersunds FK and their intrepid coach, former York City winger Graham Potter, has been well reported but there is a wider story to be told involving British players dotted across Sweden, at all levels of the game.
Three of Potter's squad, Jamie Hopcutt, Doug Bergqvist and Andrew Mills, were all also part of a scheme managed by League Football Education (LFE) to give discarded players a second chance overseas.
Funded through Erasmus+, LFE sends players across the North Sea to effectively take up extended trial periods of 12 weeks with Swedish clubs.
Remarkably for players discarded by clubs in the UK, over 35% of those that go to Scandinavia have earned professional contracts in the past five years.
These are players let go by the likes of AFC Wimbledon, Doncaster Rovers, Fleetwood, MK Dons and Wolverhampton Wanderers, to name a few - with LFE estimating that 50-60 British players are still out there.
The programme has prospered so much that LFE recently started a similar initiative in Spain working with Getafe.
Into the football wilderness
Far from being parachuted into Sweden's top divisions and the big city clubs in Stockholm, Malmo or Gothenburg, most have found themselves in more obscure surroundings.
Take Toby Davis, one of the first two players to make the jump, in 2008. He joined Umea, based in the north of the country and residing in Division One, the third tier, situated below the Allsvenskan and Superettan.
Others have found themselves as far down as Division Six - equivalent to the Evo-Stik Premier League (North and South) - located in places where the population totals the hundreds not the thousands.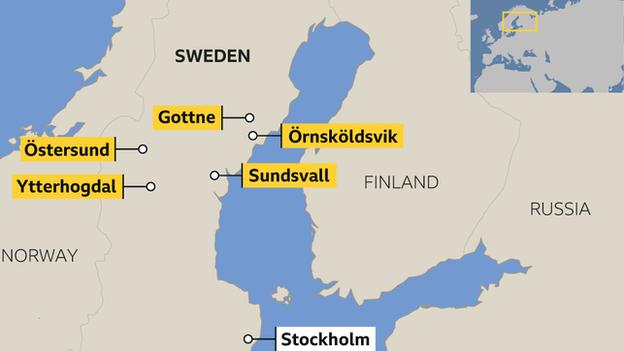 The destination of Ytterhogdal is one striking example. At last count it had less than 600 inhabitants but it has welcomed 20 players in the past four years alone.
Remote also applies to IF Gottne, another long-term partner of LFE. The club, based in a village about 20 minutes drive from the Baltic port of Ornskoldsvik, has risen from Division Six to Division Two with help from its English imports.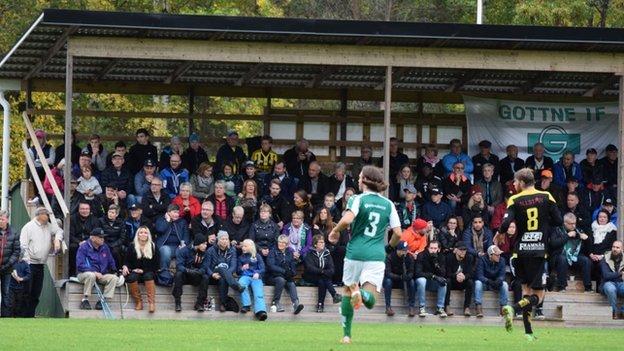 The legacy of this particular partnership goes beyond results on the pitch. The construction of a new stand - using local timber - has quadrupled crowds at their tranquil riverside ground in the woods.
Financing the football dream
Accommodation, food bills and travel costs are all covered under the LFE programme. But once that ends, players who survive the cull and want to stay in Sweden have to quickly stand on their own two feet.
With those in the lower leagues typically earning around 700 krona per week - just over £60 - many manage to negotiate deals where their clubs pick up the tab for their accommodation and at least one meal per day.
"When I first moved here a few of the lads took me out to show me around. We went to a bar and two beers and a few soft drinks cost something like £75," says Mills, who found an especially unglamorous way to fund his rise from the Swedish Fourth Division to the Allsvenskan, the country's top tier.
"I found a job in a fish factory. It's called Surstromming [a type of fermented Baltic Sea herring] - it's a common fish over here that they have over the summer time," he said.
"I worked in the factory for six months for two seasons. I started the day at 5 o'clock in the morning and ended at 4pm and then went training from 6pm to 8pm.
"It can be tough in the lower leagues. Working in the fish factory I was earning about 1,300 krona per week after tax, so it was more than double the money I received playing football."
Bone-chilling conditions
Mills, 24, who comes from Huyton, near Liverpool, has also acclimatised to the norm of sub-zero temperatures. At his last club, Friska Viljor - whose ground is on the Baltic coast - conditions regularly fell beyond -20C. A far cry from the north west of England.
"You hear about it back home and think it's cold," he said. "Last year I was further north and it was -27C but you adapt.
"It's been life changing for me. It took a lot to move over to a place I'd never heard of before."
Released by Macclesfield Town, Mills' story is one of perseverance and hard work. He is in his fifth year in Sweden and making the most of the opportunity he has been handed.
"I have loved it and wouldn't change any part of my journey," he added. "It's all just one big learning curve and I've matured as a person. Starting at the lower level you see the bigger clubs out here on TV and it feels a million miles away, but one or two good seasons can change everything. It's crazy.
"When I first moved over I couldn't speak Swedish and could just about make beans on toast but you start to enjoy things like that. You have to adapt and cooking is now one of my favourite hobbies."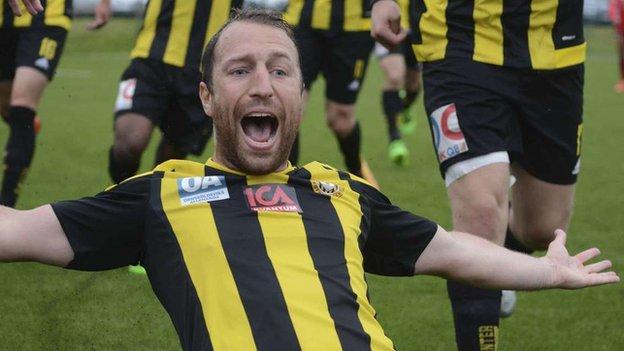 Settling into the reality
While Mills is to some extent fulfilling his dream, Davis, a former team-mate at Friska is on another page.
His football ambitions faded some time ago and the 28-year-old former Plymouth Argyle forward is content leading an altogether different existence as a media sales executive.
"When I arrived the only thing I knew about Sweden is that their football team played in yellow, there were supposed to be a lot of trees and the women were meant to by good looking," he said.
"I joined Umea, which is basically the third tier of Swedish football, and made a good start as an 18-year-old, scoring seven goals in my first eight starts for the club. They obviously thought highly enough of me from that because they gave me a two-year deal to stay."
A change in coach, formation and tactics also led to a change of fortune, however, and Davis dropped down a division to play for Junsele IF.
"I got to around 22-23 years old and got a job in a school taking the PE lessons so I had an income from football and full-time employment," he said.
"I know Andrew [Mills], he stank when he worked in the fish factory, it was horrible. No way could I have done that.
"For the last 12 months I've been selling adverts in Tidningen 7 [the main newspaper in Ornskoldsvik]. It's like playing semi-professional football back home. You go training in the evening and then get up for work the next day."
He has few regrets about how his life has panned out and recently bought an apartment with his girlfriend Limmea.
"My situation and life have changed," he said. "I love living in Sweden and my quality of life here is better than in England.
"I met my girlfriend two and a half years ago and we've made a commitment by buying an apartment together. We both made that decision, so it's not like I can or would want to turn round and say, 'I've decided to go back to England to do the same thing I can do here'."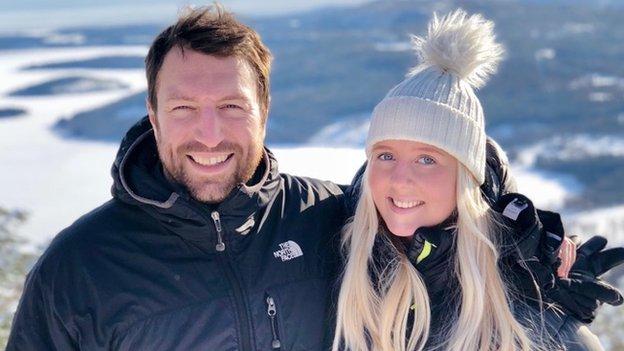 The new arrival
Stepping out of his comfort zone into the scenario that Davis faced nearly a decade ago is Scott Coughlan, who turned 19 last month.
Now 1,600 miles from his home in Swansea, he is attempting to revive his career at top-flight GIF Sundsvall after being "cut adrift" by Championship side Cardiff City last summer.
Difficulties thus far have been the obvious ones. The language barrier, for example, which has in part been alleviated by the presence of ex-Plymouth and Bradford goalkeeper Lloyd Saxton, the club's current number one.
"Some of the coaches don't speak English so they explain everything to the players in Swedish and that's quite difficult," Coughlan said.
"If there's something I need to know they get another player to translate to me."
For Davis, English is now almost as challenging as Swedish once was.
"My Swedish isn't perfect but I spend every day speaking it as part of my job. I could only have dreamed of being able to speak the language like I can now from when I first came out here," he says.
"It's funny because my English has suffered. I find myself missing out words or using the wrong grammar."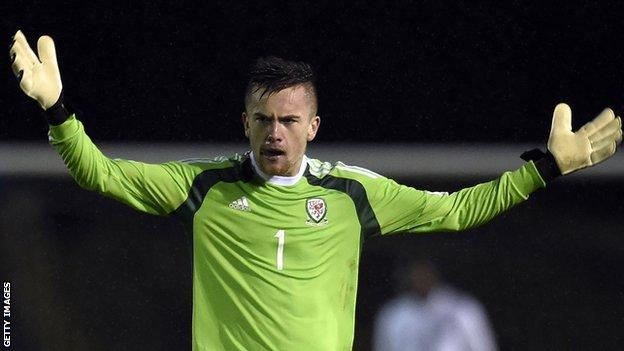 Coughlan's immediate assignment is rather less linguistically based - he has eight weeks to show he deserves a contract and place in a squad containing three Spaniards, an American and six other nationalities.
The young goalkeeper may have represented Wales between the ages of 15 and 18 but nothing came of trials at Bristol Rovers, Torquay or Hull.
Instead he was preparing to see out the present campaign in the Welsh League with Llanelli Town and considering the merits of accepting a soccer scholarship in the USA before LFE called.
"It's a dead end back home, nothing will happen now. So I was looking for other opportunities like this," he said.
And as Arsenal almost discovered to their cost, rejected players tend to make the most of their opportunities.