David Brooks' U21 inclusion 'raises everyone's game' - Page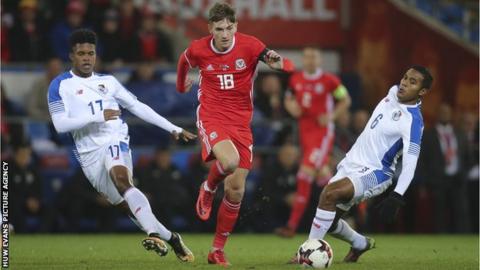 Wales under-21 manager Robert Page says the inclusion of David Brooks in their European qualification squad has raised everyone's game.
Brooks, 20, made his debut for the Wales national team against France in November but has not been included in the squad for the China Cup.
"He's brought a level of enthusiasm and class about him to training so everyone else raises their game," said Page.
"To travel to China with the national squad would have been a big ask."
Sheffield United midfielder Brooks has joined the Wales under-21s squad for their European Championships qualifying campaign in Bosnia.
Brooks was part of the under-21s team for the start of the qualification campaign before he was called up to the first team against France and Panama.
However, Brooks has not played a full 90 minutes since the start of December 2017 due to injury and illness.
The 20-year-old has just recovered from a bout of glandular fever which is the main reason for him not being included in the Wales squad for the China Cup.
"We have to show a little bit of respect to him and Sheffield United at an important stage of their season," said Page.
"It's great for him because he can come and play a game and progress his fitness, so that will benefit Sheffield too, and it keeps him in the fold with the Welsh set up, and we have a great player on our hands."
Page said he believed Wales manager Ryan Giggs had spoken to Brooks about his future in the Welsh first team.
"I think Ryan [Giggs] has had a conversation with him and the message was clear, he will be with the first team again if he keeps playing as he's playing.
"This is just an opportunity for him to come away and get minutes under his belt."
'A tough couple months'
Brooks admitted the last couple of months had been difficult but he was pleased to be back with the under-21 squad as they go in search of European qualification.
"I'm back playing now so hopefully that continues and I can build up a bit of fitness," he said.
"There is a great bunch of lads here and I want to do what I can to help them qualify and I'm happy to be here."
Wales currently sit fifth of six teams in Group 8 however they are only five points behind leaders Romania with a game in hand.
Victory over Bosnia on Friday will see Page's side leapfrog their opponents into second place if other results go their way.
Despite being driven to help the under-21 side succeed, Brooks said he still aims to get back into the first team and pick up where he left off in the Autumn.
"It was a very special occasion for me and my family," Brooks said of his first-team debut.
"They all flew out for my debut in France and then to get man of the match against Panama was another special moment so hopefully there is more to come.
"It's a massive honour, you look at all the players up there at the moment and you want to achieve what they have achieved and it pushes you on to be a better player yourself.
"I'm 21 in the summer so I want to progress up to the first team."