Martin Allen: Barnet manager reduces squad to 20 players in bid to avoid drop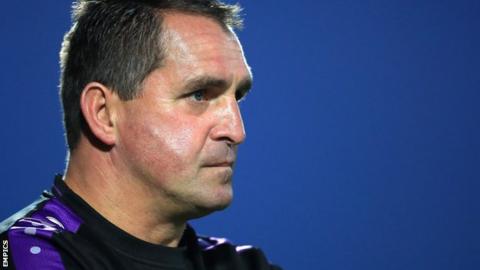 Barnet manager Martin Allen has reduced his squad to 20 players in a bid to avoid relegation from League Two.
Allen, 52, was appointed for a fifth spell in charge on Monday after head coach Graham Westley was sacked.
Midfielders Jordan Nicholson and Simeon Akinola have been made available for loan, while Tin Plavotic has returned to parent club Bristol City.
Matthew Briggs' non-contract agreement has been cancelled after just one outing for League Two's bottom club.
The former Fulham, Millwall and Colchester defender arrived under Westley on 10 March, but has left just 10 days later having come off the bench for the closing stages of Tuesday's 1-1 draw with Port Vale.
Nicholson has made eight appearances for Barnet after signing for an undisclosed fee from Peterborough on 31 January, while Akinola, who joined the club in January 2016, has scored five goals in 27 appearances this season.
Allen has also released all of the players who had been on trial with the Bees, who are seven points adrift at the bottom of League Two with eight games remaining.
In a video message to Barnet supporters, the former West Ham United midfielder called for unity during a "testing and difficult time" following a run of two wins from their past 16 league matches.
Changing roles
Allen has appointed midfielder Dan Sweeney as captain for the remainder of the campaign, with Curtis Weston stepping down from the role.
Adrian Whitbread, who worked under Allen in his first spell at the club and at Brentford, MK Dons and Leicester, has been brought in as assistant coach.
Defender Michael Nelson, who was named assistant coach by Westley on 26 January, has had his role changed to "player-coach".
Rossi Eames, who was Barnet boss from May to November 2017, is to stay with the youth team despite being offered a coaching role with the first team.
Barnet, who will also be without the injured Mauro Vilhete for the rest of the season, play second-placed Luton Town on Saturday before games against Crewe and Stevenage.