John Gregory: Former Aston Villa boss wins Indian Super League with Chennaiyin FC
Last updated on .From the section Football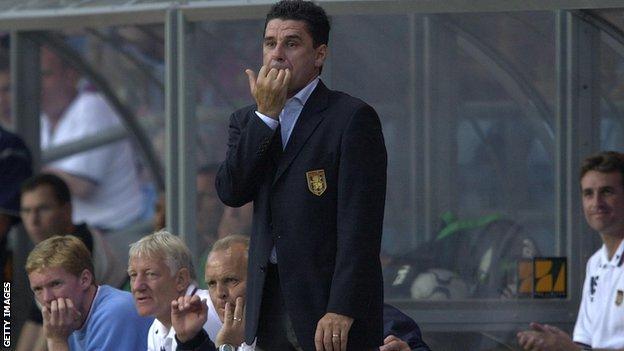 In a 28-year managerial career, John Gregory's trophy cabinet has been rather empty, bar the 2001 Intertoto Cup.
But on Saturday the former Aston Villa boss succeeded where no Englishman has before, by winning the Indian Super League with Chennaiyin FC.
The 63-year-old's side beat Bengaluru FC 3-2 in the final and he celebrated by extending his contract with the club on Monday.
"If I'm still the only Englishman to have won it in 20 years' time I'll be happy," said Gregory, who took Villa into Europe and reached the 2000 FA Cup final, where they lost to Chelsea.
Gregory, who has also managed QPR, Derby County and Wycombe Wanderers, won six caps for England as a midfielder.
He last managed in the UK in 2015 with Crawley Town, before succeeding World Cup winner Marco Materazzi as Chennaiyin boss in July 2017.
"It is enormously satisfying," added Gregory.
"I've never been to India before and trying to acclimatise ourselves to the way people live, the way people drive, the way people treat you with respect.
"From a professional point of view, there's a lot of red tape that we have to adhere to here. Obviously, some of that is frustrating, but you have to get used to it. The travelling is also different and a bit long."