Garth's Team of the Week: Vorm, Salah, Eriksen, Lukaku & Matic among picks

By Garth Crooks
Football analyst
Last updated on .From the section Premier League

There were Premier League wins this weekend for Crystal Palace, Bournemouth, Everton and Liverpool, for whom Mohamed Salah scored four times, while Tottenham, Manchester United, Southampton and Chelsea made it through to the semi-finals of the FA Cup.
But who has impressed me most? Here is my team for this week...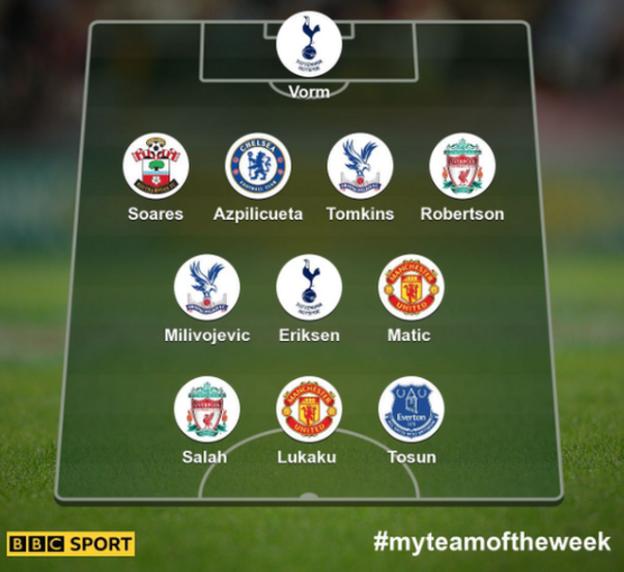 Goalkeeper - Michel Vorm (Tottenham)
He had practically nothing to do until Martin Olsson hit a 20-yard stinger in the hope it might get Swansea back into the game. It would have done had Michel Vorm not been in superb form.
Not only did Vorm deny Olsson what would have been a fabulous goal but the former Swansea keeper immediately popped up like a jack-in-the box to make a double save, this time from Tammy Abraham who was only six yards out. An excellent performance from Tottenham's "second choice" keeper.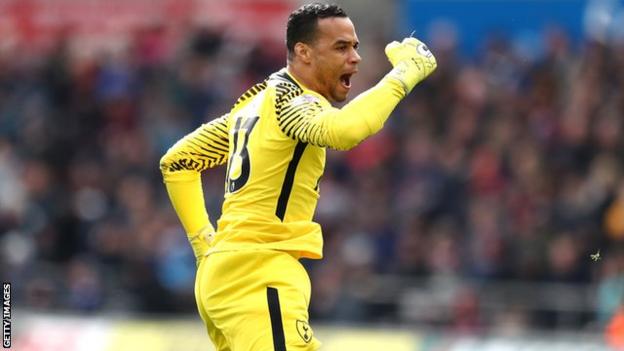 Did you know? Vorm made two saves against previous employers Swansea, keeping his first clean sheet away from home since February 2017 (against Fulham).
Defence - Cedric Soares (Southampton), Cesar Azpilicueta (Chelsea), James Tomkins (Crystal Palace), Andy Robertson (Liverpool)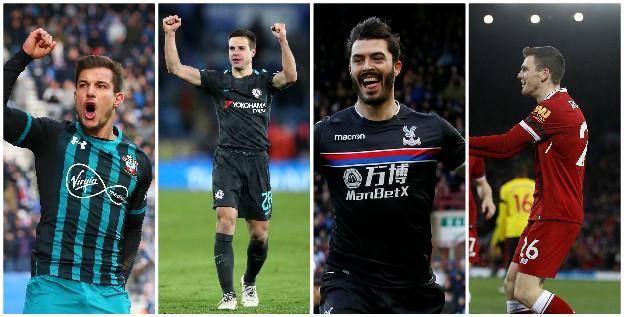 Cedric Soares: There have been five teams who have played in an FA Cup final and been relegated in the same season and Southampton could join them.
Their win against Wigan gave me mixed feelings. I'm not entirely sure of the merits of Mark Hughes walking straight into a job, having taken Stoke to the brink of relegation, but that's football.
What did impress me was Cedric Soares' superb finish that clinched the tie. The ball to him by Nathan Redmond was not an easy pass to take but the full-back brought it under control and finished brilliantly.
Did you know? Soares, in what was his 88th appearance, scored his first Southampton goal.
Cesar Azpilicueta: It has been a very challenging week for Chelsea and lesser teams might have crumbled after they were destroyed by Barcelona in the Champions League in midweek.
All credit however to their captain, Cesar Azpilicueta, who rallied his troops against a determined Leicester and led them into another FA Cup semi-final.
There have been plenty of shenanigans going on at Stamford Bridge this season and they can be traced back to the defeat in last season's FA Cup final against Arsenal. Chelsea now have a chance to rectify that appalling performance by beating Southampton. It might even save Antonio Conte's job.
Did you know? Only N'Golo Kante (12) gained possession back more often than Azpilicueta (11) against Leicester.
James Tomkins: It's about time Crystal Palace had some good fortune. The Eagles were desperately unlucky at home to Spurs and Manchester United, and deserved something for their efforts in both games.
The goal by James Tomkins away at Huddersfield was a tad fortunate but Roy Hodgson won't lose a wink of sleep over that. Tomkins would have had a second but for some excellent defending on the line by Steve Mounie. Out of the bottom three they may be, but Palace are still involved in a terrible scrap for survival.
Did you know? In addition to opening the scoring at Huddersfield, Tomkins also made a team-high 11 clearances.
Andy Robertson: What a cross from Andy Robertson for Mohamed Salah. It was a world-class ball from a young Scot who has only played a handful of games for club and country.
The Champions League draw has pulled Liverpool versus Manchester City out as the tie of the round. It will be a game of huge importance for both clubs. I will be very interested to see how Robertson copes in that environment.
Did you know? As well as recovering possession 12 times, the Liverpool full-back provided the assist for Salah's second goal of the game.
Midfield - Luka Milivojevic (Crystal Palace), Christian Eriksen (Tottenham), Nemanja Matic (Manchester United)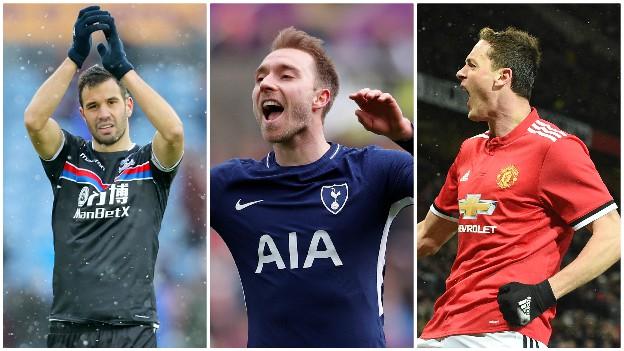 Luka Milivojevic: It's not been an easy season for Crystal Palace but the victory away at Huddersfield will go a long way to making the Eagles feel an awful lot better.
The arrival of Luka Milivojevic in midfield has provided an element of steel and a lot of nerve. The Serbia international has produced important penalty conversions during this Premier League campaign for the Eagles but none more so than against Huddersfield. Palace are going to have to demonstrate nerves of steel if they are going to survive this season. Milivojevic definitely has what it takes in that department.
Did you know? After yet another goal from the penalty spot, Milivojevic has netted six penalties in the Premier League this season - more than any other player.
Nemanja Matic: Can anyone explain why Antonio Conte sold Matic to one of his main rivals? I didn't understand it at the time and it makes even less sense to me now. Against Brighton the Serbia international was imperious.
Matic is not a star and refuses to crave the limelight in the same manner as Paul Pogba for example - although there is nothing wrong with that if you are performing.
However Matic joining United has left Chelsea, and more importantly Conte, exposed and placed United in a much more favourable position. Exceptionally poor judgment by Conte.
Did you know? In Saturday's game between Manchester United and Brighton, no player had more touches of the ball than Matic (136).
Christian Eriksen: This was an impressive performance by Spurs and in particular Christian Eriksen. Tottenham dominated Swansea and find themselves in the semi-final of the FA Cup for the second consecutive year. Meanwhile Eriksen strolled through this game with such consummate ease there were times you thought it was a training session. The question now is whether Spurs can take advantage of their current rented accommodation and win a trophy. If so, Wembley would have been useful after all.
Did you know? Eriksen had more shots (6), more shots on target (5), scored more goals (2) and made more key passes (6) than any other player on the pitch against Swansea.
Forwards - Mohamed Salah (Liverpool), Romelu Lukaku (Manchester United), Cenk Tosun (Everton)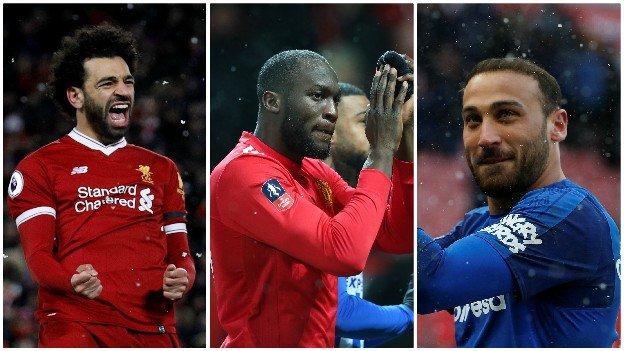 Mohammed Salah: Everything this man touches seems to turn to gold. Thirty-six goals in 41 appearances for Liverpool is quite extraordinary. Former Liverpool greats like Peter Thompson and Steve Heighway never got anywhere near that return.
Liverpool fans may have to brace themselves, however, for an audacious bid from Real Madrid in the summer. This lad is having the same impact across Europe as Gareth Bale had in his final season at Tottenham. And we all know what happened after that.
Did you know? Salah scored with 100% of his shots against Watford, netting four times in a 5-0 win for Jurgen Klopp's side.
Cenk Tosun: I haven't been totally convinced by Tosun's performances since he arrived at Goodison Park and I rather suspect neither has Sam Allardyce. To suddenly single Tosun out for special praise is a sure indication of the manager's relief that the striker [who wasn't cheap] is now hitting the back of the net on a more regular basis.
His two goals against Stoke, in appalling conditions, smacked of a natural striker's instincts. Allardyce now suggests 40 points allows Everton the luxury of building for next season. I suggest those building blocks centre on Tosun scoring 20 goals otherwise both manager and striker could end up on Everton's cutting-room floor.
Did you know? The Turkey international netted his double from just three shots on target at the Bet365 Stadium.
Romelu Lukaku: Romelu Lukaku is looking more like Didier Drogba the more I see him. From his first headed clearance on the edge of his own six-yard box, to his coolly taken opening goal, the United striker has had a resurgence in form and looks a powerhouse. I have seen him in this form for Everton, of course, but he is developing into a much better team player and manager Jose Mourinho must take the credit for that.
Did you know? No other Premier League player has scored in more games in 2018 than Lukaku (nine games).
You've seen my picks this week. But who would you go for?
Choose your XI from the shortlist selected by BBC Sport journalists and share it with your friends.
Pick your Team of the Week
Pick your XI from our list and share with your friends.
The Crooks of the matter...
Mourinho's midweek news conference rant was the best television I've seen in years. Every now and then a top manager will concede to the pressure and go into meltdown.
I've seen Rafa Benitez do it while he was managing Liverpool, Arsene Wenger completely lose it on the touchline with Martin Jol and Alan Pardew, and who can forget Kevin Keegan's 'I would just love it' outburst which precipitated the end of Newcastle United's title hopes. All brought about because of extreme pressure.
Mourinho's verbal explosion reminded me of the intransigent Brian Clough at his best. The nation loved to hate Clough. The former Nottingham Forest manager was at his most entertaining when under siege. He was merciless with signings that failed him, and totally dismissive of stars.
In fact the bigger the star, the more dismissive he was of them. Mourinho comes from the same school and, like Clough, the most important man in the club is himself.
This is his style and it has served him well. For both men, failure was never an option and they will defend themselves and their 'record' when under attack zealously, which is why Mourinho's outburst was so interesting. And, by the way, factually correct.
I have arguably been, and remain, one of Mourinho's biggest critics. Not because I don't like him but because I don't like his brand of football.
If Mourinho was to ditch this dreadful but successful functional game he insists on playing for something more worthy of the team he manages, he would get the love and affection he desperately craves - as Clough did.
In the absence of that, and winning trophies, he will continue to get dog's abuse from all quarters of the press and a section of United fans. We, in return, will get the occasional outburst - but even Mount Vesuvius erupts every now and then.