Premier League stats: Jurgen Klopp, Mo Salah, Didier Drogba, West Brom, Huddersfield
By Jonathan Jurejko
BBC Sport
Last updated on .From the section Football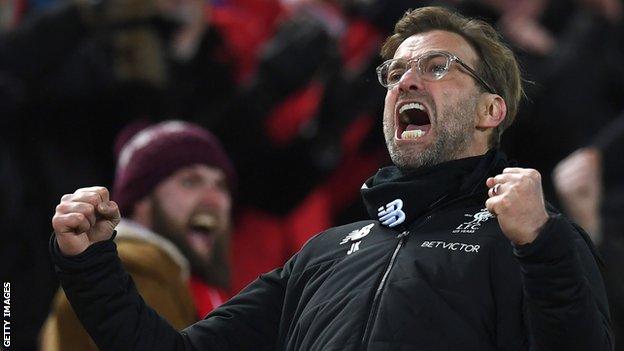 Jurgen Klopp once said he liked his teams to play "heavy metal" football.
It is a quote that has continued to ring in the Liverpool manager's ears, regularly being used to describe his footballing philosophy.
On Saturday, Klopp celebrated his 50th home Premier League game in charge of the Reds - his 99th overall - with a thumping 5-0 win over Watford.
And the numbers show the German is bringing more entertainment to Anfield than an Iron Maiden concert.
The Reds have averaged 2.22 goals per home game since Klopp took over in October 2015 - their highest ratio in the Premier League under any manager.
However, it has proved to be a risk-and-reward style.
Liverpool have conceded more goals in their first 50 home league games under Klopp (44) than they did under Evans (34), Houllier (42) and Benitez (26), with only Rodgers' side leaking more (45).
Combining these two statistics to calculate the total goals per match shows those going to Anfield are certainly getting value for money during Klopp's reign.
That's not all necessarily good news for Reds fans - Klopp has won fewer league games in his first half-century (28) than Evans (33), Houllier (32), Benitez (37) or Rodgers (30).
Salah - the African king of the Premier League?
"Mo Salah! Mo Salah! Mo Salah! Running down the wing, Salah la-la-la la-ahh, the Egyptian king!"
The Egyptian forward's four-goal haul for Liverpool against Watford at Anfield on Saturday took him to 28 top-flight goals this season.
Only one other African player has scored more in a single campaign.
Guess who is looking over his shoulder.
No surprise, is it? Chelsea legend Didier Drogba.
The Ivorian striker led the scoring charts with 29 goals as the Blues swept all before them in 2009-10. However, he ended up with something that season which Salah surely won't get this season...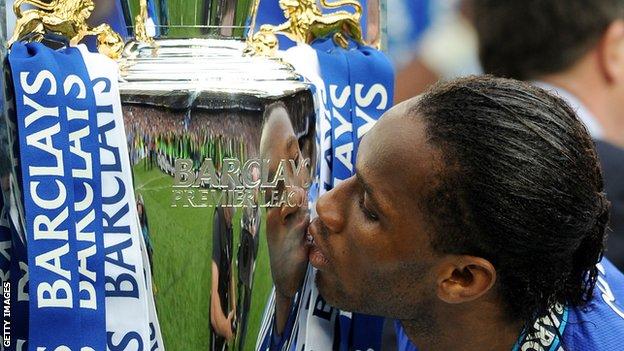 ...a Premier League title winners' medal.
Baggies not got the stomach for the fight?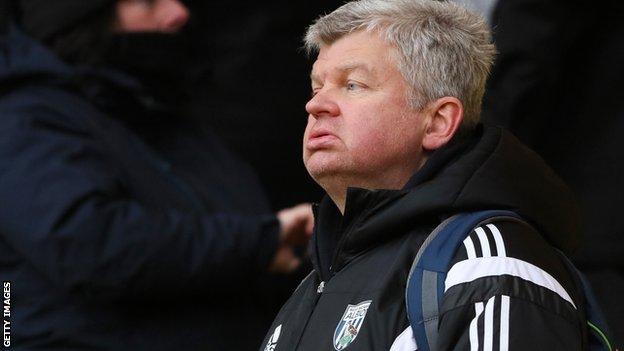 If West Bromwich Albion had won all the games in which they had taken the lead this season, they would be safe and sound.
The brittle Baggies have lost 24 points from winning positions in the Premier League - more than any other team.
Albion threw away more points on Saturday when they led 1-0 at Bournemouth before succumbing to a 2-1 defeat.
"We got in a great position, made a couple of errors and got punished, which has been the story of our season," manager Alan Pardew said afterwards.
Albion have taken the lead four times in their past eight games without going on to win, and have blown an advantage in a total of 10 matches.
With seven games still remaining, Pardew's side have a strong chance of earning an unwanted place among the all-time Premier League bottlers.
Entertainment value
Fewest wins, fewest points, fewest goals... West Brom fans have suffered more misery than any other set of Premier League supporters this season.
But here's a (very) small consolation for them: Huddersfield supporters have actually trudged home from the most games without even being able to cheer a goal.
Town drew another blank in Saturday's home defeat by fellow strugglers Crystal Palace, a result that dragged them closer to the drop zone.
History tells us that Terriers fans have a right to be worried about their lack of firepower.
That's because 23 of the 44 teams (52%) who have failed to score in 17 games or more have gone on to be relegated.
And if David Wagner's side continue to draw blanks then the odds of an instant return to the Championship increase.
Fifteen of the 23 teams (65%) who have failed to score in 18 or more matches have been relegated.
But hope for Huddersfield comes from across West Yorkshire...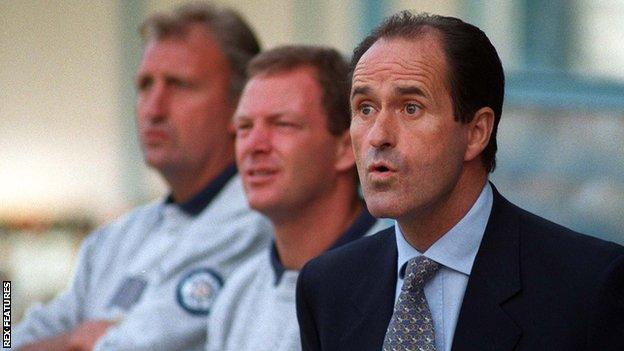 ...George Graham led Leeds United to an 11th-place finish in 1996-97 - despite his side failing to score in 21 of their 38 games.
Follow Match of the Day on Instagram for the best photos from the world of football.