Man Utd 2-0 Brighton: Jose Mourinho says his side were 'scared to play'
Last updated on .From the section Man Utd833
Manchester United manager Jose Mourinho said his players were "scared to play" and questioned their "personality" in the FA Cup win over Brighton.
Romelu Lukaku and Nemanja Matic scored to put United into a record-equalling 29th FA Cup semi-final.
Mourinho said his side deserved the win and was happy with the result, which was "better than the performance".
He said: "We didn't play as I wanted them to play; we didn't play as I prepared the team to play."
Mourinho added: "We deserved to win, clearly - we had the match under control - but we didn't play well. Sometimes there is a contradiction between what you work on in the past two days and what you did on the pitch.
"That is more frustrating than the result. Once more I wasn't happy with the connection in the build-up. I blame everybody."
'When the sun is shining, everything goes well'
Mourinho was criticised for an unadventurous approach after United were eliminated from the Champions League by Sevilla on Tuesday.
He then attracted more controversy by suggesting immediately afterwards that being knocked out in the last 16 was "nothing new for the club".
Mourinho responded to that criticism with an extraordinary 12-minute defence of his methods and record at a news conference on Friday, during which he reeled off a list of statistics and added that he was not afraid of his responsibilities.
Then, when addressing the written press during the second half of the conference, he referred to "idiots", "idealists" and "the dictionary of life" in an impassioned speech.
The performance against Brighton was hardly any better than the one against Sevilla - although the result was an improvement.
United only had two shots on target - scoring with both - while Brighton had 14 efforts on goal, and Mourinho made clear his displeasure afterwards.
He said: "A few other guys, I saw them scared to play. I cannot say much more. It is a relation with personality, is a relation to trust, is a relation to class.
"When the sun is shining and everything goes well, you win matches, you score goals, everything goes in your direction, every player is a good player and wants to play and wants the ball and looks amazing and is confident.
"When it is dark and cold, and in football that means a period of bad results or a bad result, not everybody has the confidence and personality to play really.
"To be on the pitch and touch the ball every five minutes, everyone can do it, but to be on the pitch and say 'give me the ball because I want to play', not everyone can do that."
'An island of personality'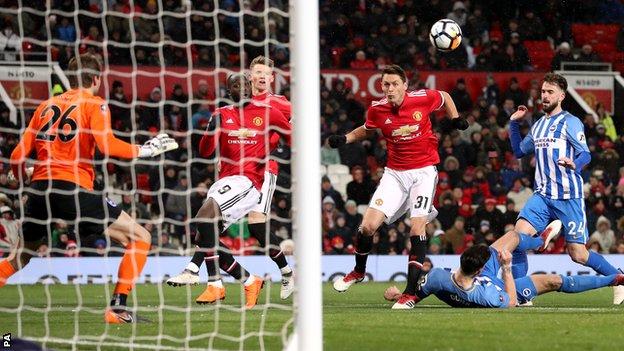 Serbia midfielder Matic was the only United player to emerge with unqualified credit in Mourinho's eyes, having set up Lukaku's goal before scoring himself.
Fellow midfielder Scott McTominay was commended for showing character, although Mourinho declared that his performance was the worst he had produced since his promotion from the youth set-up.
The manager said: "I prefer to name the good ones. Matic was an island of personality and quality and reaction to the defeat of last Tuesday.
"Scott played the worst match since he played with me in the first team but he is a Manchester United player for sure. He is the player that made mistakes, passed the ball so badly tonight, lost so many passes but had the big personality to cope with the mistake.
"He had the big personality to say: 'I am not playing well but at least I am going to do the basic things of the game, keep position, recover balls and don't make defensive mistakes.' But a few of the other guys, I saw them scared to play."
'I was not happy with Shaw'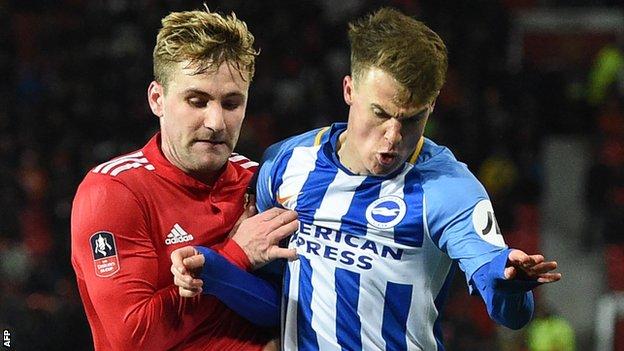 Mourinho reserved his biggest criticism for left-back Luke Shaw, substituted at half-time despite playing a role in Lukaku's goal.
The manager has criticised the England international repeatedly in the past, most notably last April, when he publicly questioned his approach in training, his commitment, his focus and his ambition.
Mourinho suggested that, against Brighton, Shaw and fellow full-back Antonio Valencia failed to follow his tactical instructions - and that was the reason for the half-time change.
"It is my decision," he said. "We worked on certain kinds of movements, where it was really important the two full-backs were aggressive, created space for Matic and were in front of the two central defenders. I didn't have that.
"I could have changed both of them at half-time. I didn't change both because it was too aggressive to do it. I would only have one more change available to make in 90 minutes.
"I had to change one and I chose Luke because at least Antonio defensively was capable of good positioning. Luke, in the first half, every time they came in his corridor, the cross came in and a dangerous situation was coming. I was not happy with his performance."