Steve Perryman: Exeter City's work being noticed, says outgoing director of football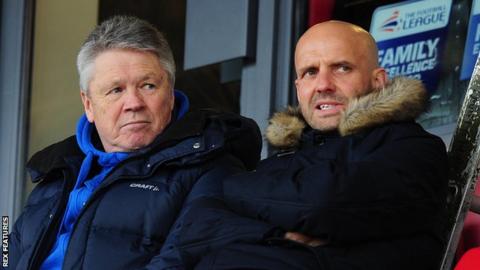 Steve Perryman says English football is starting to take notice of the work being done at Exeter City.
The double-FA Cup winning Tottenham captain will retire as City's director of football at the end of the season.
The fan-owned Legaue Two club have developed young players such as Ethan Ampadu and Ollie Watkins, now at Chelsea and Brentford respectively.
"Football is taking notice of it, they know this is a serious football club now," Perryman told BBC Sport.
"Albeit a small club, albeit lacking any financial power, but there's a power in the environment we have here to all work together and work to improve."
City have yet to come to an agreement with Chelsea over a fee for teenager Ampadu, who became City's youngest-ever player in August 2016 and has since gone on to play in the Premier League for Chelsea and make his full international debut for Wales.
The club have made more than £4m in transfer fees in the past three years - Watkins was sold for a club-record £1.8m to Brentford last summer while David Wheeler left for QPR for around £500,000 in the same transfer window.
Tom Nichols joined Peterborough for a six-figure fee in January 2016 and Swansea City signed Matt Grimes for £1.75m in January 2015.
But Perryman says that despite the big fees, small crowds because of stadium redevelopment and investment in other infrastructure, City are still not that wealthy.
He continued: "I don't like having to go cap in hand to clubs and say 'we can't afford that player' for loan wages or whatever.
"I don't like doing it on behalf of Exeter, but whilst it's the truth I can say it.
"When we keep selling players for a lot of money that story becomes less and less believable of 'we can't afford it'.
"It's something Exeter City's got to get used to in the future with regards to bringing new players in."