Garry Monk: Birmingham City boss says Blues must deal with 'adversity'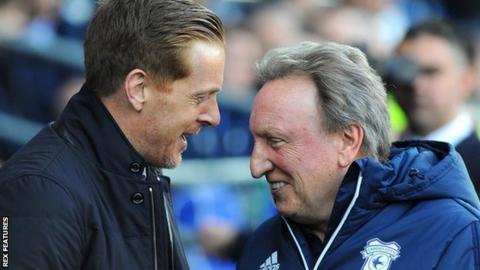 New Birmingham City boss Garry Monk says that being in the bottom three is like starting every game 1-0 down.
Blues, 22nd in the Championship, have lost both of Monk's games in charge.
And he knows the final nine games may come down to how well his confidence-sapped players can handle their nerves.
"As long as you're in the bottom three, you're already 1-0 down. Adversity is against you before you step on the pitch so we have to be going at it from the very first second," he told BBC WM.
"It all comes down to hard work and commitment, but you also need things to go your way."
Going into Saturday's home fixture with fellow strugglers Hull City, Monk has found positives to draw on from his two games so far - the single-goal defeats by promotion-chasing duo Middlesbrough and Cardiff City.
"We were on the wrong side of it in my first game against Middlesbrough with one unlucky bounce of the ball," said the former Swansea, Leeds and Boro boss.
"And, although we were 3-0 down at Cardiff, we made a few changes at half-time and came out and had a good second half. Now we need to have that from the first second."
'We have to get ourselves right'
Blues' main failing this season has been their lack of goals. Just 25 of them. And they remain the lowest scorers in the entire English Football League.
Defensively, Birmingham's back four has not been anywhere near as effective since the injury to Jonathan Grounds at the end of January, since when they have lost all eight matches, conceding 20 goals.
That was followed by the loss of midfielder David Davis, who has been out for a month with a mystery leg injury which he picked up during Blues' derby defeat at Aston Villa, the game which triggered their run of seven straight league losses.
It has left them three points adrift of safety - and, after final-day near misses in 2014 and again last season, Blues are looking at a return to third-tier football for the first time since Barry Fry's team went down in 1995.
But Monk insists that it is all down to what they now do themselves.
"The worst thing to do is what focus on what the opposition are doing," the 39-year-old added. "We have to get ourselves right and at our most competitive.
"We've still only had a short time to work with the players but the the more time you get the better. We've tried to improve on some of the good things that we've seen since we came in and are obviously trying to work on their weaknesses.
"Is it going to be the final product by the end of the season? Of course not.
"There's an imbalance. but we knew that when we came in here. You can only control what you can control. We are where we are. We have what we have."