Kenneth Zohore: 'Neil Warnock is why I am where I am today'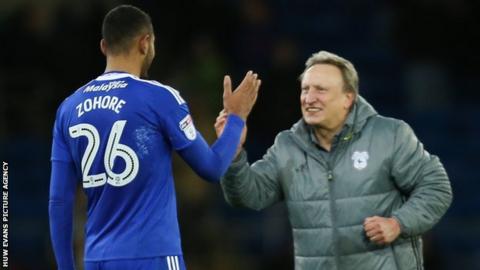 Cardiff City striker Kenneth Zohore says he has manager Neil Warnock to thank for where he is today.
The 24-year-old was third-choice striker at the club before Warnock's arrival but the veteran manager has changed the Dane's fortunes.
"He [Warnock] has been very good to me, he is the reason I am where I am today," said Zohore.
"He's been pushing me telling me I can do things I didn't know I could and you can see that now."
He added: "I ran 10km the other day - I've never done that before in my life."
The former Copenhagen striker had a lot of expectation on his shoulders at the start of the season after an incredible run of form through the tail end of the last campaign.
Despite scoring on the opening game of the season, Zohore registered just three goals before Christmas.
However the performance levels shown recently are much more akin to that of last season's excellent spell.
Zohore has scored three goals in his last five games, as well as registering an assist, the latest during Cardiff's seventh win on the bounce.
"It's all about confidence as a striker, you want to score goals," said Zohore.
"I set a target before the season and I'm not there but we are as a team as long as we win the personal stuff is secondary.
"I have played well for the past few games and I have really tried to work as hard as I know I can and I'm back in top form so I'm really pleased."
A team full of winners
Cardiff City sit seven points clear of third-place Aston Villa after their 3-1 away win at Brentford.
Despite going behind early on, Zohore said he still believed the Bluebirds would come away from Griffin Park with the three points.
"When we went a goal down I still thought we were going to win it," said Zohore.
"We have the team that can come back which is strong and we know if we play well, we will always get a result, even away.
"We have nothing but winners and that's why we are where we are. We just have to keep pushing.
"I felt like I created a lot of opportunities so I was happy to get the goal and Junior has, like most of my goals for Cardiff, given the assist so I was really happy."
Like his manager, the striker reiterates the season is far from finished but the Dane said he looks forward to every second on the pitch - even during training.
"We have to take things one game at a time, we still have to play the teams closest to us," added Zohore.
"It's a good opportunity we took to go seven points clear but we aren't finished yet, there is a long way to go and a lot of points to play for.
"Derby is a massive game, we will be going there to get a result so I'm looking forward to it and I look forward to training.
"When we aren't training I am bored and I just want to get on the pitch."