Ken Mulhearn: Ex-Manchester City and Shrewsbury Town goalkeeper dies aged 72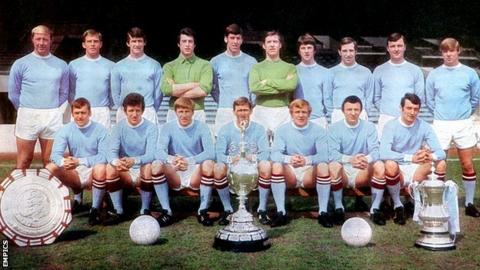 Former Shrewsbury Town goalkeeper Ken Mulhearn, a key part of Graham Turner's 1978-79 Division Three promotion team, has died at the age of 72.
Liverpool-born Mulhearn spent a decade at Shrewsbury after joining from Manchester City in 1971.
He also made 50 league appearances in his four years at Manchester City, largely as understudy first to Harry Dowd and then Joe Corrigan.
He won the league title in his first season with City in 1967-68.
Mulhearn began his career at Stockport County, making 100 league appearances before being transferred to City in September 1967.
His final stop was at Crewe, for whom he had two seasons between 1980 and 1982, making 88 league appearances.
Mulhearn's passing is particularly poignant, given Shrewsbury's current league position.
Paul Hurst's side are second in League One and looking to become the first Shrewsbury team to win promotion to English football's second tier since Mulhearn featured in Turner's team of 1978-79.