Cardiff City: Warnock says promotion pressure is on rivals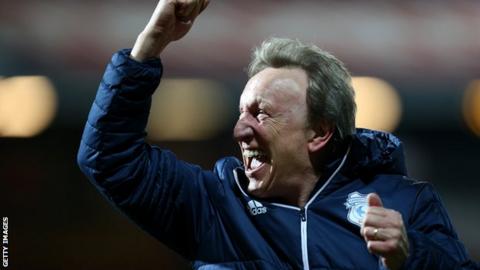 Cardiff City manager Neil Warnock says the money spent by rival clubs in the Championship promotion race means the pressure is all on the other clubs.
The Bluebirds have opened up a seven point advantage in second, but Warnock says promotion this season is not the be all and end all for Cardiff.
"Certain teams have got so much pressure with the wage bill and crowd it is difficult," he explained.
"There is pressure at the top clubs but I don't feel that with us."
Warnock says the support he has received from club owner Vincent Tan and chairman Mehmet Dalman means the club can be philosophical about promotion, because Cardiff are ahead of where they expected to be.
The likes of Aston Villa, Middlesbrough, Leeds United and Fulham have all spent more than the Bluebirds, who were as long a shot as 40/1 to be promoted automatically back in August.
"Mehmet (Dalman) and Vincent (Tan) have been fabulous with me, and we've said all along we'll have a go if we are in the play-offs - I guarantee that now - but if we lose in the play-offs, we'll have a go next year," he said.
"That's how they are, they're not saying we've got to do this or that, everybody's enjoying it, when you do that there's not so much pressure. You can see we're free and relaxed when we play.
"The spirit is something I pride myself on, it's a lovely feeling.
"I look around the dressing room before a game and think, 'Wow, I'm glad they're my lads, these'. I'm really proud to be manager of them, and of the supporters. It's lovely to make people smile.
"We play some good football too, it's not just a fluke."
Derby game will be a bonus match
Warnock says he was targeting three points from away visits to Brentford and Derby this week, so the Bluebirds are ahead of his target after their 3-1 success at Griffin Park.
"We haven't seen anything like Brentford, they were really quick," he explained. "I would have settled for three points between Brentford and Derby so it's a bonus on Sunday for me.
"You guys you can get carried away a little but, I am enjoying the moment more.
"I wouldn't have faulted my players if we got beaten at Brentford, but it just showed what kind of team we are.
"We have a never say die attitude, got some good players and turned what could have been a naughty situation into a fabulous night for everybody."
International return a big boost
Cardiff are ready to welcome Aron Gunnarsson back for the Championship promotion run-in after manager Neil Warnock revealing he has recommended the midfielder plays for Iceland during next week's international break.
Gunnarsson was the Bluebirds player of the year last season, but has made just 12 appearances this term with an ankle injury ruling him out of action since November.
But Warnock has given the green light for national captain Gunnarsson to play for his homeland against Mexico in San Francisco as Iceland warm-up for this summer's World Cup.
Gunnarsson has not figured for Cardiff since the 1-0 win at Barnsley in November following ankle surgery, but is now tipped to return for their fixture with Burton at the end of the month.
Warnock said: "Gunnars is training hard. I'm going to go and have a look at him to see what he's like because hopefully he's going to go away in the international week and play a game for Iceland, or play an hour."
Iceland play Mexico on March 23 before facing Peru in New Jersey four days later with Cardiff's Championship fixtures resuming when they play Burton at Cardiff City Stadium on Friday March 30.
"He'll miss the second game and be available for Burton," Warnock added. "I've spoken to Iceland and I recommended it. The under-23s are no good for him, the pitch is not up to standard, so I've said if he can get himself fit for the international break he can go away with them, have an hour in the first game and then second game he'll give it a miss and come back and prepare for Burton."