Scottish football accused of sweeping sectarianism under carpet

By Chris McLaughlin
BBC Scotland
Last updated on .From the section Scottish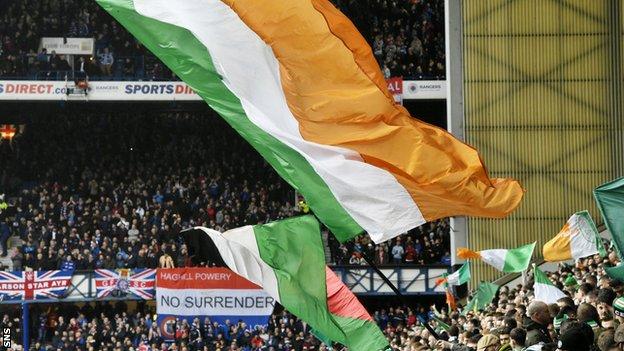 Scottish football is not doing enough to tackle sectarianism, according to some of those employed by the league to help identify it.
A number of current and former match delegates have told BBC Scotland of their dismay at reporting the problem only for no action to be taken.
"It was so frustrating," said one.
"And I know that some of the delegates who are still working today are absolutely appalled that nothing has changed."
The former delegate continued: "It seems like the Scottish Professional Football League is content to sweep the issue under the carpet."
The SPFL says it condemns any incidents of unacceptable behaviour and works closely with the police and government in a bid to tackle the issue.
The complaints come as the Scottish Parliament prepares to repeal legislation set up to fight what was once described by a sitting First Minister as Scotland's secret shame.
The SPFL employs delegates to help enforce league rules during matches and identifying sectarian singing is part of that brief.
But, under the current rules, if clubs can prove they have taken all reasonable steps to prevent such behaviour, they will escape any sanctions.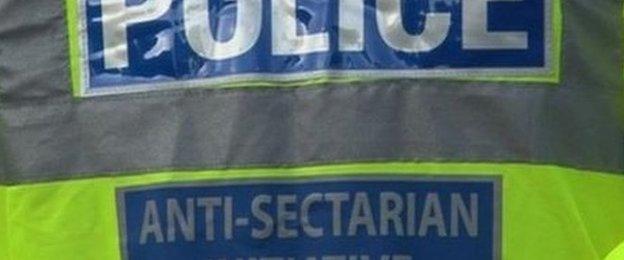 "We had numerous meetings with the police, who told us which songs to look out for, but it was pointless because when we reported them, nothing was ever done," said the former match delegate.
BBC Scotland has also learned that delegates have reported at least four clubs to league bosses this season alone for fans singing offensive or sectarian songs.
MSP James Dornan has been a vocal supporter of the Offensive Behaviour at Football Act, which is expected to be repealed after a final debate in Holyrood.
He believes football's governing bodies need to be held to account properly if things are going to change.
"I would like to say I'm shocked by this, but I'm not in the slightest," he said. "The footballing authorities have proven that they are not willing to take it on."
'This is Scottish football's dirty secret'
The Scottish Government has asked for the SPFL's figures relating to sectarianism to be made public, but so far the league body has resisted.
"Secrecy is the way that they run their business," said Dornan.
"I've seen them in action in committees in parliament and they seem to think we have no right to question them and they believe secrecy is the way to hold power.
"This is Scottish football's dirty secret and it's time Scottish football stepped up to the plate."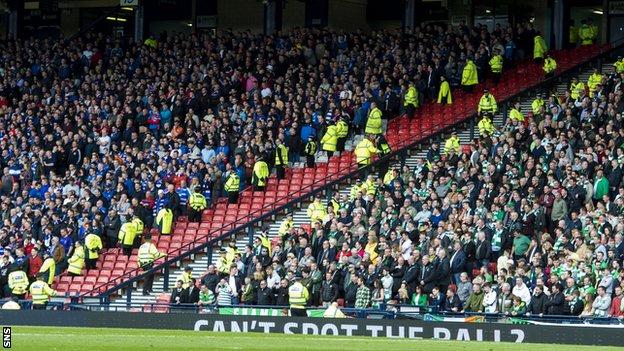 In 2007, league bosses said they were getting tough on the issue and announced a sliding scale of sanctions, including financial penalties, point deductions or even closure of stadia.
Those sanctions are no longer in play and clubs have always resisted a European model of strict liability.
Under those rules, clubs are held accountable for all unacceptable conduct within their own stadium.
BBC Scotland asked the SPFL to answer specific questions regarding sectarianism and offensive behaviour, including a request for figures relating to this season.
The governing body declined but released a statement saying: "In January 2017, SPFL clubs voted to approve updated guidance that encourages clubs to develop proactive programmes and make progress towards raising awareness of the prevention and, where present, the elimination of unacceptable conduct in stadia in which matches take place.
"At the start of this season, following agreement with the Scottish Government, we started to collate and share information with both the Scottish Government and Police Scotland regarding incidents of unacceptable conduct at SPFL matches at regular intervals throughout the season.
"The SPFL condemns any incident of unacceptable conduct and our collaboration with the Scottish Government and Police Scotland demonstrates the SPFL's ongoing efforts to work with key stakeholders and help Scottish football address effectively any instances of unacceptable conduct at SPFL matches identified and reported by SPFL match delegates and Police Scotland."