Man Utd 1-2 Sevilla: Champions League exit nothing new - Jose Mourinho
Last updated on .From the section European Football622
Manchester United manager Jose Mourinho said being knocked out of the Champions League at home in the last 16 was "nothing new for the club".
Sevilla substitute Wissam Ben Yedder netted twice for the Spanish side in their 2-1 victory at Old Trafford.
Since losing the 2011 final, United have only reached the quarter-finals once - losing to Bayern Munich in 2014.
"I don't think the performance was bad," said boss Mourinho, who lost at the last-16 stage for the fourth time.
He added: "I don't have regrets. I did my best, the players did their best. We tried, we lost and that is football."
"We should have done much better with the quality we have in the team," said Romelu Lukaku, who grabbed a late consolation goal. "We wanted to go far in the Champions League, that's what a club like United needs to do".
When asked about the atmosphere in the dressing room after the game, the Belgium striker told BT Sport that "some players were hiding".
United were second best in the two matches against the Spanish side and Mourinho was made to pay for his cautious approach as they failed to join rivals Manchester City and Liverpool in the last eight.
The Red Devils have now won just one out of their past nine knockout games in the competitions and have been knocked out at this stage in two of their past three campaigns.
A bright opening five minutes saw Lukaku strike wide and have an effort blocked from close range, but La Liga outfit Sevilla controlled the contest thereafter.
United's Champions League record since 2008

2007-08:

winners (beat Chelsea on penalties)

2012-13:

last 16 (lost 3-2 to Real Madrid)

2008-09:

runners-up (lost 2-0 to Barcelona)

2013-14:

quarter-finals (lost 4-2 to Bayern Munich)

2009-10:

quarter-finals (lost on away goals to Bayern Munich)

2014-15:

did not qualify

2010-11:

runners-up (lost 2-1 to Barcelona)

2015-16:

group stage

2011-12:

group stage

2016-17:

did not qualify

2017-18:

last 16 (lost 2-1 to Sevilla)
Mourinho said: "I sat in this chair twice in the Champions League after knocking out Manchester United [in the last 16] at home, at Old Trafford. In this chair with Porto [in 2004] and Real Madrid [in 2013], they are out both times. It is not something new for the club.
"I don't think the performance was bad, I think the intention and the way we started was really good and positive. Sevilla has a good team and they can hide the ball and have players in midfield who are good at doing that. They did that for the majority of the time.
"I think the first goal was always going to be important, not just because of the first-leg result but also the profile of the match.
"Sometimes I am lucky with changes, others time other managers are. It was good, a happy move by Vincenzo to bring Ben Yedder on. When they scored the first goal, the game is completely different."
With the Premier League all but lost to City, United must focus attention on the FA Cup as their only hope of claiming silverware this season, coming up against Brighton in the sixth round on Saturday.
'Everything must change'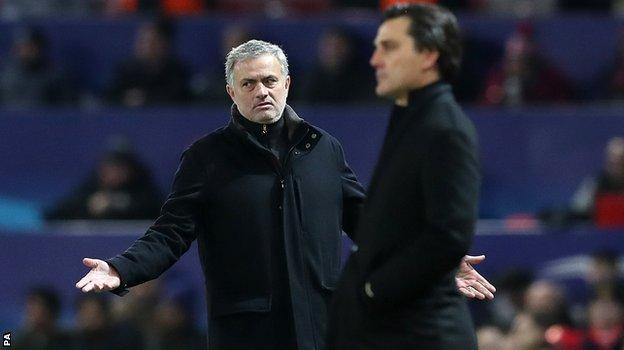 Mourinho has spent £300m in his two seasons at Old Trafford and the club signed Alexis Sanchez from Arsenal in the January transfer window, in a straight swap for Henrikh Mkhitaryan.
Asked after the Sevilla defeat what has to change to get United into the top-eight teams in Europe, Mourinho replied: "Everything. Everything together.
"Everybody spends money, right? It is not just us, no? It's not just changing for changing's sake, it's a natural process.
"And we're not the only team that invests money. All clubs invest money in players."
'No desire, no energy'
Former United stars Paul Scholes and Rio Ferdinand did not hold back in their criticism.
"It was difficult watching that," Scholes told BT Sport. "There was no desire, no energy, no speed about the team. I can't explain it. There are players in the squad to play good, attacking football."
Ferdinand added: "I did not see this result coming after the performance against Liverpool. They looked like a team thrown together, full of strangers."
Speaking about Sanchez's performance, the former England defender said: "He looks a shadow of the player he was at Arsenal. When you go to a new team you don't lose all the talent. It isn't going for him, but the whole 11 today were shocking."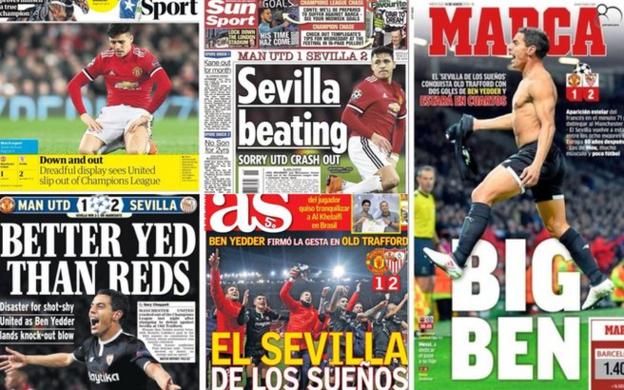 Analysis
BBC Sport's Simon Stone
After the match, Mourinho told his players he was glad they were sad at losing such a big game because it would bode well for the future.
However, he told them to let him take the weight of defeat and get their heads right for Saturday's FA Cup quarter-final against Brighton, when defeat would end any realistic hope of winning a trophy this season.
It means the Portuguese will come under greater scrutiny over his team selection and tactics which, even if he would never admit it publicly, he accepts he got it wrong.
After he had finished with his own players, Mourinho sought permission from Sevilla to enter the visitors' dressing room to congratulate them and wish them luck for the remainder of the competition.
The Sevilla players were so impressed they responded with a round of applause.
What you said on #bbcfootball:
Joshua: An absolute disgrace! The players and the manager need to have a long look at themselves in the mirror tonight. Boring football, unimaginative, timid, a disgrace. I'm disgusted at that performance.
Steve J: At the game - never heard such a flat stadium. Not the fans' fault, it's impossible to get behind a team playing that like. Outraged but sadly not surprised.
Taylor: Jose has lost the dressing room. No player who was committed to their manager would turn up and play like that.
Joe Wedgewood: Did that Jose interview seriously just happen? What game was he watching? Protecting the players or not, he's talking utter nonsense.