Jamie Carragher spitting row: Flintoff and Savage on being in the public eye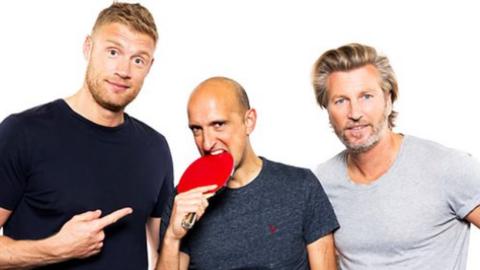 "I look at the fixtures on a Saturday night to see which teams from the North or the Midlands have played in London and I'm dreading getting that last train home."
BBC Radio 5 live pundit Robbie Savage knows how it feels to be in the spotlight - and the attraction that can bring.
By his own admission, everyday situations can become unpredictable.
It's an issue that has been in the headlines in recent weeks following incidents involving another football pundit, Sky's Jamie Carragher, and England rugby head coach Eddie Jones.
Carragher has been suspended by Sky and apologised for spitting towards a car, hitting a 14-year-old, after being goaded by the driver.
Jones was physically and verbally abused as he travelled by train following England's Six Nations defeat by Scotland last month.
In their weekly Flintoff, Savage and the Ping Pong Guy podcast for BBC Radio 5 live, former England all-rounder Andrew 'Freddie' Flintoff and ex-Wales international footballer Savage discuss finding yourself at the centre of public interest, how to deal with it and their views on the Carragher incident.
Things can turn personal
Savage:
"I have had grown men coming over to me saying things and trying to sit on me on the train.
"It's horrible, and you get worried that if you don't play along with it they might smack you.
"Every time I'm on 606 at the weekend I will get the train home and it's petrifying.
"I look at the fixtures on a Saturday night to see which teams from the North or the Midlands have played in London and I'm dreading getting that last train home.
"Freddie is well liked and people love him, so when we're out together I have never seen one person say anything derogatory to him. Maybe that's because he played cricket but football is tribal.
"I was a pantomime villain. Did I bring that upon myself? No, it was because of the way I played and I was a winner. I've had fireworks shot at my house, I had a guy with a tube firing rockets at my house smashing the windows last time we had Bonfire Night."
It can get physical
Flintoff:
"I was in Milton Keynes on Friday night. I'm walking round the corner and it's midnight. Two lads approached me, in their early twenties, and they've had a couple. One has come over and asked if I was all right and said he got into cricket because of me.
"Then his mate came forward got right in my face and raised his hands. At that point I was on alert. He half slapped me across my face.
"So I grabbed his head and pushed him down and put his head on the pavement. I asked him what he was doing before turning to his mate and telling him not to think about anything.
"And then I thought to myself, this could go really wrong because there are cameras everywhere. So I got hold him and said when I let go here you can either walk off or this isn't going to be good.
"He got up and gestures his arms a couple times and I said just walk off, so his mate took him away.
"It was a tricky one because I don't drink so I was in control of what I was doing, I was clear of mind and I was genuinely trying to defend myself and defuse the situation. There were no camera phones but there was CCTV everywhere and I thought this could go badly wrong. I was restraining him because I didn't want anything to happen."
Public transport can be intimidating
Savage:
"It's intimidating when you're approached by some people and you have to play along with it. I have sat there on carriages and you are in total disguise but as soon as one person recognises you, they are on you.
"They're swearing at you and they try and sit on you while they're under the influence."
On Jamie Carragher's actions
Flintoff:
"I'll be honest with you. I would rather be punched, head-butted or slapped than spat at. To me that's the lowest.
"All I'm saying is if someone spat at my daughter I would have dragged him out of the car. I think the dad took it quite well really.
"I get it in traffic, you give them a wave or pretend you've not seen them.
"I don't want to be cutting to Jamie Carragher because you don't know what is going on his life but to wind your window down and do a big golly out the window at someone, whatever the circumstances, how does it come to that?
"You're in the safety of your car and you can turn your radio up - it's not like he's in a bar and someone is in his face. I just don't understand what could take someone with his age, experience and profile to do that."
Savage:
"I like Jamie Carragher and I think he's a fantastic pundit. I'm sure the provocation levels he has had in the past as a footballer or on the street has been far worse than that. The restraint he has probably had to show over the years is immeasurable. It's in an instant he has snapped and lost his head but what he has done is disgusting.
"There is no excuse at all in the incident. I wouldn't spit at any level of provocation. He has since apologised, which is the right thing to do."