Southampton should replace Pellegrino with Mark Hughes - Robbie Savage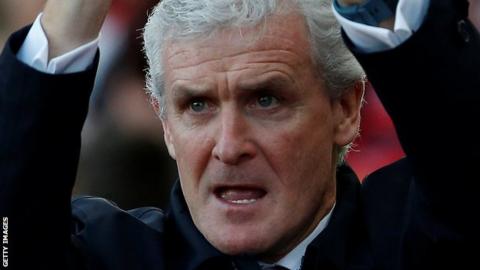 Southampton should appoint Mark Hughes as their new manager until the end of the season, says Robbie Savage.
The Saints sacked Mauricio Pellegrino on Monday after one win in 17 games left them a point and a place above the Premier League relegation zone.
Savage told 5 live sport: "You might think I'm mad but with eight games to go and looking at men who are out of work - it's Mark Hughes.
"He has never been relegated as a Premier League manager."
Savage played under Hughes for Wales and Blackburn and believes he is the right man for the job despite being sacked by Stoke in January.
Hughes has taken charge of nearly 450 Premier League matches for Blackburn, Manchester City, Fulham, QPR and Stoke. He also briefly played for the Saints at the end of his career.
Savage said: "He played for Southampton, and he will want to prove Stoke wrong. He has lots of experience."
Southampton hope to have their new boss in place before facing Wigan on Sunday for a place in the FA Cup semi-finals.
Whoever is appointed will be the club's fifth permanent manager in the five years since Mauricio Pochettino replaced Nigel Adkins.
Former Hull and Watford manager Marco Silva has also been linked with the job, and was in the running last summer when Pellegrino was appointed.
Marco Silva in by the weekend? - Analysis
BBC Radio 5 live chief football correspondent Ian Dennis:
Pellegrino was too cautious. These players have shown under previous managers that they are better than where they currently are in the table. They are underachieving for the talent within this squad. They should not be just a point above the relegation zone.
The coach needs to take responsibility for that. They now need to be far more proactive.
The worrying thing for them is that, of their eight remaining games, five are away from home. They are currently going through a club record eight home games without a victory.
The measure had to be taken after the weekend, otherwise they were sleepwalking towards relegation.
Southampton are keen to have Pellegrino's successor in place by the weekend. That is the ideal scenario.
It is no surprise to see Marco Silva's name heavily linked as he is someone who Southampton have shown interest in before and he is available. This means they can act swiftly. At this stage beggars can't be choosers.
The beauty from Southampton's point of view is that after the weekend they then have a break before their next league fixture, which is the crucial fixture at West Ham on 31 March.
'Fast becoming the new Sunderland' Your say on#bbcfootball
Ian in London: So Pellegrino wasn't getting the desired results, add him to the list Southampton. How the board expect to do well when they sell their best players and sack managers that do well (Puel) I will never know. Fast becoming the new Sunderland. The atmosphere is so bad they seem to be doomed, a shame for the fans.
Daniel Hodson: I hope Southampton take a gamble and appoint someone like Graham Potter and hopefully it works for them. Don't go for same old managers like Hughes and don't go for Silva who if does good will want to leave like with Watford.
Alex(ander) Shahbazi: Gotta be Marco Silva, no? Only guy out there who has Premier League experience and could liven up a vapid Southampton side.
Albin Jaison: Made my evening this has, think we've all been praying for this to happen for a long time. It has to be Silva or Hughes, someone with proven Premier League experience. I don't want us to go for another manager from a foreign league.
Loser92: You wouldn't treat a dog the way Southampton have treated Pellegrino.