Gary Rowett: Derby County manager seeks change to appeals rules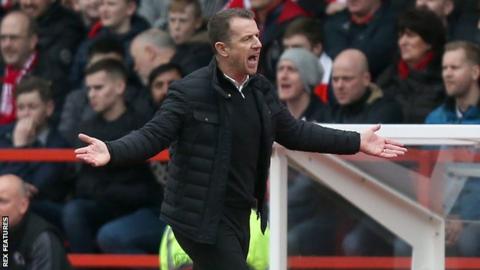 Derby boss Gary Rowett says it is "a disgrace" that clubs cannot appeal against yellow cards after "blatantly obvious" refereeing errors.
Tom Huddlestone was sent off after being shown a second yellow card for a foul on Lee Tomlin in the Rams' draw at Nottingham Forest on Sunday.
Derby have the Championship's sixth-best disciplinary record this season, with only two red cards.
"There was no contact, there was no foul whatsoever," Rowett said.
"Unfortunately for us not only do we lose the opportunity to try to win the game in the last 15 minutes, but it's a double whammy because we now lose him and we can't appeal it. For that, I think the system is a disgrace."
Under FA rules, clubs hoping to appeal against a straight red card must show that an "obvious error" was made by the referee, but "two cautions leading to a dismissal" cannot be appealed against.
"I do not understand why [we can't appeal] if there's been a blatantly obvious mistake, which the referee can make, I understand that," Rowett told BBC Radio Derby.
"For me that should be overturned and I think we have to change that somehow."