Millwall are not getting the recognition they deserve, says manager Neil Harris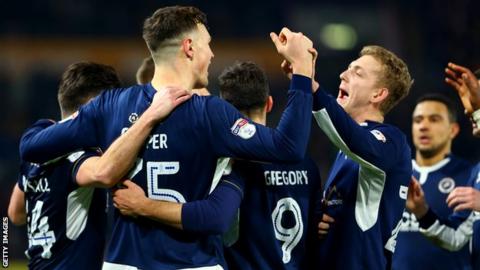 Millwall are not getting the recognition they deserve for their recent form, says manager Neil Harris.
The Lions beat London rivals Brentford 1-0 on Saturday to extend their unbeaten Championship run to 11 games.
Harris' side have climbed to 10th, just six points outside the play-off places with nine matches remaining.
"We've got absolutely no pressure on us this season - we've gone way above and beyond the expectation level that anyone put on us," Harris said.
"There are teams around us and above us that have got to get in the play-offs. If they don't it'll be a disaster with the money they've spent."
Millwall are unbeaten in the Championship since New Year's Day, having taken 25 points out of a possible 33 since being beaten 2-1 by Norwich City.
But having been promoted from League One via the play-offs last season, Harris feels his team are regarded as underdogs in a division which contains several former Premier League sides with bigger budgets.
"People still aren't talking about us," the 40-year-old told BBC Radio London. "We've gone on this run and every TV programme, radio station and newspaper you look at don't give Millwall a mention.
"My players are a bit cheesed off to be honest that they've not had more recognition. It's not because they're egotistical, but that's just football."
Millwall will continue their play-off push on Saturday when they travel to relegation-threatened Barnsley, before games against mid-table Ipswich and Nottingham Forest.