Scotland: Alex McLeish an 'inspired' appointment, says Craig Brown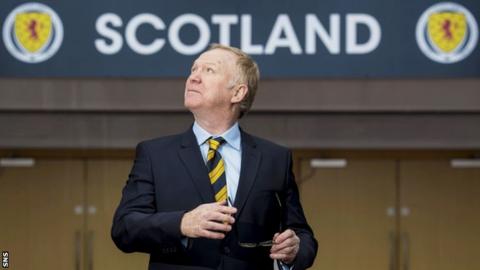 Former Scotland manager Craig Brown says Alex McLeish is an "inspired choice" as national team head coach.
Brown spent eight years in charge of Scotland, and he believes McLeish has the experience and "presence" to succeed.
"I know Alex well. He's an outstanding individual," Brown said. "When he walks into that dressing room, he has authority without saying a word.
"The (players) respect him. He'll do exceptionally well."
McLeish names his first Scotland squad, in his second stint in charge, on Monday. Manchester United midfielder Scott McTominay will be selected, after choosing to play for Scotland over England.
Brown, who describes McLeish as "an excellent exponent on the coaching field", believes the new Scotland head coach can freshen up the squad with younger talent, but may also be considering a switch to a back three - with the likes of Hearts defender John Souttar and Aberdeen centre-back Scott McKenna figuring in his thinking.
"In his first period with Scotland, to win seven out of his 10 games is quite an impressive international record," Brown said.
"He'll be very well-organised and - being a former defender himself - he might err on the side of caution. I'm sure he'll not be gung-ho in his approach to the game.
"It might be that he'll revert to three at the back, which is becoming quite popular again. It was the system that was the house style that I used and unashamedly copied from Germany.
"Now, there's been a return to a three at the back and it might be what Alex will use. It wouldn't surprise me as he has some young players that he can put in (a three-man defence). "
"The exciting players are the young full backs we've got, with Kieran Tierney and Andrew Robertson. Alex still has experienced players in the squad. The centre-back Christophe Berra is an experienced player and Russell Martin; he has Grant Hanley and Charlie Mulgrew available - all experienced guys.
"But there's a brightness about the squad that's exciting and the job that Alex McLeish has is really a maintenance job because the last 18 months under Gordon Strachan were good and the team was playing well and we were a bit unfortunate not to qualify.
"So, he's not having to resuscitate the Scottish national team and find a new team. He's to tweak what was a very good team towards the end of Gordon's reign."