Nemanja Vidic: Former Man Utd captain wants to be a 'real manager'
Last updated on .From the section Man Utd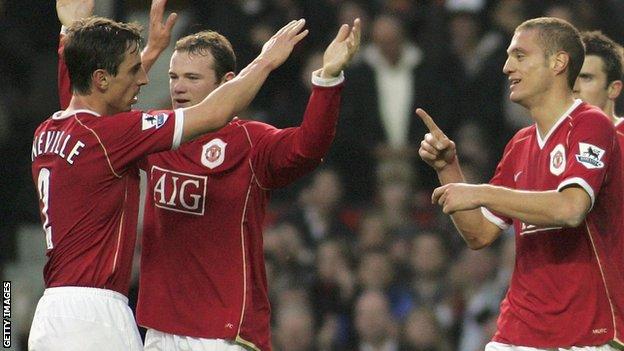 Ex-Manchester United captain Nemanja Vidic wants to avoid being a pundit and instead become a "real manager".
The 36-year-old former Serbia defender is nearing the end of his Football Association Pro-Licence course.
But he said football has changed in the two years since he retired, and players now have "more power" than managers.
"There are no more managers any more, just coaches now," said Vidic, who spent eight seasons at Old Trafford under Sir Alex Ferguson.
"I would like to be a real manager."
Vidic has rejected repeated requests to join former United team-mates Gary Neville and Rio Ferdinand as television pundits because he wants to prove himself as a boss.
"Alex Ferguson made it look easy," he added. "You watched him and thought: 'I would like to do that.'
"But then I went to play in Italy. Then it didn't look the same."
'Players definitely have the power now'
Vidic - who made over 200 appearances for Manchester United, winning five Premier League titles, one Champions League, three League Cups and a Club World Cup - said that as part of his Pro Licence course he is studying how football has changed in the 21st century.
"I think the role of the manager has changed - he is becoming a coach," he said.
"Players want the money and have more power - more power than the managers. It could frustrate me.
"When I was a player I don't think I used my power. I didn't think I was above the manager; I respected the manager. For me, it was coach, manager, CEO, owner.
"I don't have experience to talk about players from a manager's view, but the players definitely have the power now."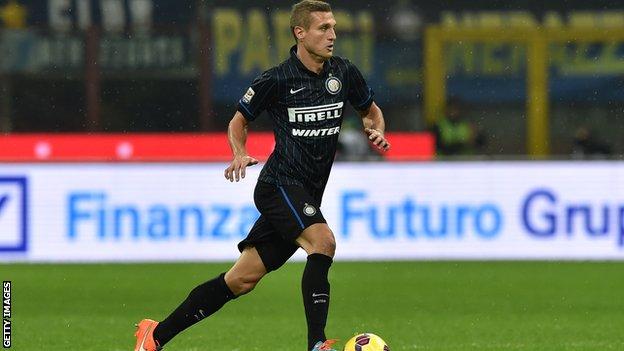 Winning, losing, happy, sad
Vidic was 34 when he retired after failing to recover from a succession of injuries.
After spending eight and a half years at Manchester United and 18 months with Italian giants Inter Milan, Vidic has no financial need to become a manager.
However, while admitting it is an occupation full of stress and one that lasts less than 100 games in the Premier League on average, Vidic is optimistic about the future.
He said: "I understand it is difficult - but I have played football all my life. For 28 years, I had about 15 managers. It's what I know.
"I am used to the stress. Winning, losing, happy, sad. You want to win again. You want to prove something. You want to make the difficult decisions and test yourself."
Last Man Utd captain to win the league
Vidic said he thinks United may have a better chance of winning Europe's elite club competition in the coming years rather than the English top flight.
Jose Mourinho's side are second in the Premier League table but 16 points behind runaway leaders Manchester City.
They host Sevilla in the second leg of their last-16 tie in the Champions League on Tuesday, having drawn 0-0 in Spain last month.
"I know the Premier League is bigger - but I think the Champions League could happen," said Vidic.
"When the season started, I thought United had more chance to win the Champions League than the Premier League because the players they signed didn't have the time to fit in.
"Also, Mourinho is a tactical coach and knows Europe very well. He knows there are going to be scrappy games and how to get through them.
"To win, you need a bit of luck - but there is a chance to get to the semi-finals or final. You never know. And if you win a Champions League, the players start to believe.
"Phil Jones, Chris Smalling, they will look different to now. It is about the perception of the people - you have to win.
"Players then believe more in themselves. They start to perform better."