Scott McTominay: Man Utd midfielder will make Scotland debut - Alex McLeish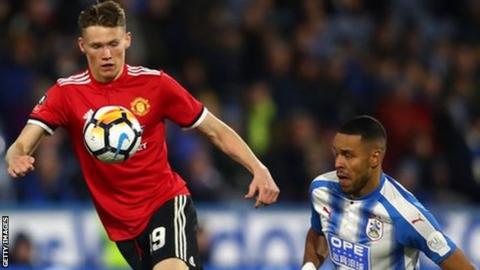 Scott McTominay will make his Scotland debut later this month, new national boss Alex McLeish has confirmed.
The English-born Manchester United midfielder, whose father is Scottish, pledged his international future to Scotland following talks with McLeish.
Scotland play friendlies against Costa Rica and Hungary on 23 and 27 March.
"The chat was good; I looked into his eyes and felt he really wanted to play for Scotland," McLeish said of his meeting with the 21-year-old.
"Although he has to play a bona fide competitive match before he would be fully registered as a true Scot, I feel he's already that.
"If he plays in one of the friendly games - which he's sure to do unless he gets injured - hopefully Scott will pledge his allegiance, and I think he already has."
Scotland play Costa Rica at Hampden Park in a fortnight, before travelling to face Hungary four days later.
The national team also have an end-of-season trip to face Peru on 29 May and Mexico on 2 June.
McLeish, who was appointed Scotland manager for the second time in February and will name his first squad since returning to the role on Monday, believes he can improve McTominay's game.
"He's only 21, he's not got all the answers and we keep striving," McLeish told BBC Scotland. "We know that every day you keep learning in football.
"Scott's got things he can improve on, I'm sure [United manager] Jose Mourinho's working on them, and I've seen a couple of things I believe I can help him with.
"Nothing spectacular, I can't show him how to dribble or play in a beautiful way like somebody like Graeme Souness, but I can show him some other things I believe can enhance his game."
'You can't beat experience and we will miss Scott'
McLeish, however, will be without the services of captain Scott Brown, who has retired from international football.
The Celtic skipper, 32, stepped down from Scotland duty for the second time last month, citing the need to "look after my own body", and 59-year-old McLeish could not persuade him to remain available.
"It was on the cards," McLeish said. "I totally respect Scott for what he's done. It would've been nice to have had him continue, with the tactical nous he has and the way he's really improved as a footballer.
"You can't beat experience and we will miss Scott but hopefully we'll find a replacement.
"I really felt that his mind was made up - it didn't matter who was in the job. Even if Gordon [Strachan, McLeish's predecessor] stayed, perhaps he would still have made this decision, because Celtic have shown great confidence in him in awarding a new contract.
"And I think sometimes Celtic would only get three-quarters of Scott Brown and Scotland would only get three-quarters, instead of the full 100% of Scott Brown.
"He says he's feeling it in his body now, and I think he's getting to that stage of his career where he wants to give everything to his club."
'I'm not handing out caps willy-nilly'
McLeish won seven and lost three of his 10 games at the Scotland helm in his first spell during 2007.
He says his squad of 11 years ago boasted far greater experience than the present playing group, but is confident those at his disposal can "do something really great" for Scotland.
"There are a lot of good youngsters coming through; we've already got youngsters in the squad that have made their debuts already," he said of the current crop of players.
"There are some young players that are being suggested to me. I'm not just going to hand people a cap willy-nilly, we've got to make it a big, big achievement to be capped for the Scotland national team.
"I think this group of young players have got a real chance to do something really great for Scotland, but they're going to have to grow.
"Young kids have got to be allowed to make mistakes, but when you come to international level, you are looking for players who are going to be watertight."