Ryan Higgins: Torquay United forced to retire aged 23 by heart condition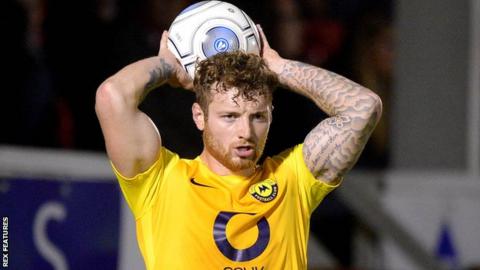 Torquay full-back Ryan Higgins has been forced to retire at the age of 23 after being diagnosed with a heart condition.
Higgins has not played for the National League side since 21 November and has been undergoing a series of tests.
"My sister was rushed to hospital with a heart condition back in November," said the ex-Everton academy product.
"I did briefly return to football but, after further investigation, the doctors informed us that my sister's condition was hereditary."
He added: "It has been a long and difficult process, and we received the worst possible news last week, which confirmed I would have to retire from the game.
"It is obviously heartbreaking news and something I will have to digest."
Higgins joined Torquay from Southport in the summer, having also spent time at Birmingham City, Telford United and Chester.
"Football has been my life and all I ever wanted to do since the age of four. It is too soon for me to know what the next step will be but I look forward to the next chapter in my life with a positive attitude," he added.
"It was very tough breaking this news to the players today but they are a terrific bunch of lads, and I wish the football club every success for the future."
Higgins' news comes as a blow for the Gulls, who are second-from-bottom of the National League and nine points from safety.
"This is devastating news for any young professional to end their career at just 23 years old, but I know everyone at Torquay United - players, staff and fans - will get right behind supporting Ryan and his family," said Torquay United general manager Geoff Harrop.
"I can only apologise to the Torquay United fans for not updating them on Ryan's condition but it was obviously a very sensitive issue, with confidentiality and Ryan's welfare our primary concern.
"As well as being a tremendous young footballer, he is a fantastic lad and will always be welcome at Plainmoor."