Paul Sturrock: Dundee United recruit former player and manager as scout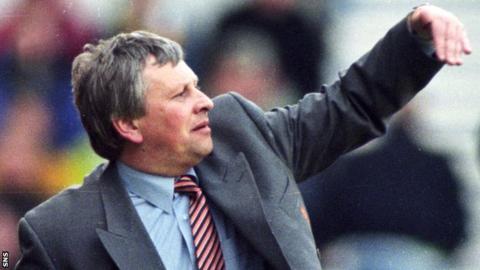 Former Dundee United player and manager Paul Sturrock has taken up a new role with the club as their chief scout in England.
The 61-year-old rejoins the club after Mike Martin replaced Stephen Thompson as Tannadice chairman.
Having scored 171 goals for United, Sturrock returned as manager after a spell in charge of St Johnstone. Stints with six clubs in England followed.
"I am delighted to be back working for my club," he told United's website.
"I look forward to working hard and using my knowledge of the English game to bring talent to the club."
United, under current boss Csaba Laszlo, are fourth in the Scottish Championship and trail leaders St Mirren by 17 points, but the Tangerines have three games in hand.
And chairman Martin said: "Paul's passion for the club is very evident and his knowledge of the lower leagues in England remains outstanding. Recruitment from England has to play a big part in our ability to produce talent right through the ranks.
"Seeing the instant connection between him and Csaba and after listening to Paul's views in our meetings over the last few days, I do not doubt that this appointment will be productive for United and I am excited to welcome Paul back to Dundee United."