Wolves welcome meeting with EFL over owners Fosun's link to agent Jorge Mendes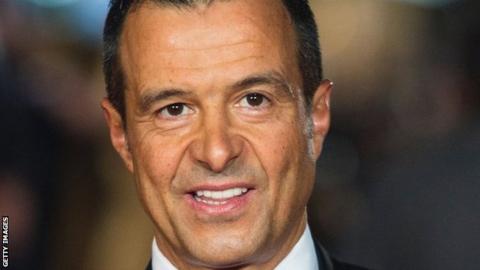 Championship leaders Wolves say they would welcome the chance to meet with the EFL over the club's owners Fosun's relationship with agent Jorge Mendes.
Leeds United owner Andrea Radrizzani questioned the legality of the link-up on social media following his side's 3-0 home defeat by Wolves on Wednesday.
The matter was then raised at a league meeting on Thursday "in light of recent concerns raised by a number of clubs".
The EFL responded by saying that they would convene a meeting with Wolves.
On Friday, Wolves released a statement, saying: "We are very clear on FA and EFL regulations and always comply with them explicitly.
"We welcome any form of communication with the EFL to reiterate our position.
"We fully anticipate the release of a further EFL statement in support of Wolves and the club's operations to bring a prompt resolution to this matter."
An EFL statement on Thursday said: "The club was explicitly informed in July 2016 of all the requirements it was expected to meet as part of the change of control, and appropriate arrangements were put in place to ensure compliance."
A subsidiary of Fosun owns a share in the Mendes agency, several of whose clients are at Molineux, including head coach Nuno Espirito Santo and Championship record signing Ruben Neves.
'Rules and regulations' - Bruce
Wolves do not believe they have broken any rules, but several Championship clubs have argued that the arrangement represents a conflict of interest.
Aston Villa manager Steve Bruce, whose side host Wolves on Saturday, told BBC WM: "Whether they're doing anything wrong is for others to address.
"All the other stuff, that's up to the authorities to do their jobs properly and, if there is any wrongdoing, then to right it. We all have sorts of rules and regulations that we adhere to in this country."
Speaking after his side's midweek victory at Elland Road, a win which stretched their advantage over third-placed Villa to 10 points, Nuno said Wolves "compete fairly".
Radrizzani posted a further statement on social media on Thursday in which he said he was "encouraged" by the outcome of the EFL's meeting.
"I used Wednesday's fixture to raise longstanding concerns that I have regarding agencies having direct influence within clubs, which I believe could break EFL rules," he said.
"The aim is to open a transparent debate regarding the rules and motivate the institutions to be vigilant with anything that can spoil the fairness of the competition, which I am encouraged to see the EFL taking seriously as per their statement.
"I believe it is vital for clubs in the Championship and beyond to operate on a level playing field."
On Wednesday, Wolves announced a loss of £23.8m for the 2016-17 season - and have said that they are making a "month by month" check to avoid falling foul of any financial fair play regulations.