Riyad Mahrez: Leicester winger says team-mates stood by him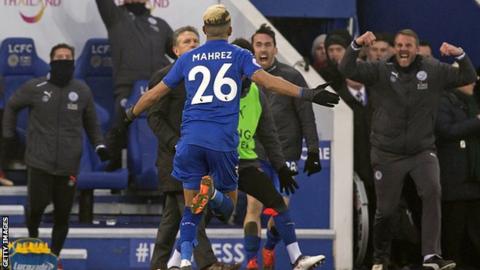 Leicester winger Riyad Mahrez says his team-mates have stood by him since his failed move to Manchester City.
The 27-year-old missed training after the January transfer collapsed, but is back in the fold and his late equaliser rescued a point against Bournemouth in the Foxes' last game.
Mahrez admitted to "regrets" over the saga but said he now wants to put it behind him.
"It was a difficult situation. Now it's the past, it's behind," he said.
The Algeria international, who has played in Leicester's past four games, told Sky Sports he was grateful for how his team-mates reacted to his return.
"I was away from here because I needed some time to think," he said. "You'll always have regrets but at that time I thought it was the best thing to do.
"I spoke with the players, I spoke with the manager, I spoke with everyone. Everyone was OK, was good.
"I've always been in contact with the club. The club handled it very well."
Mahrez was reportedly the subject of four January bids by Pep Guardiola's side, who have a 16-point lead at the top of the Premier League.
He said he was focused on Leicester now, but open-minded about his future at the end of the season.
"In football players come, players leave, I'm not saying I'm coming or going," he added.
"We always talk between me and the club, everything is good, so we will see in the summer if things come. At the moment I'm a Leicester player."
Foxes manager Claude Puel says the speculation around Mahrez's proposed transfer did have a negative impact on his squad, particularly during their defeat at Everton on transfer deadline day.
"The first game against Everton, it was a strange atmosphere around the team. It was a difficult moment. We lost a good feeling about this game and there were mistakes." he said during his news conference before Saturday's league match at West Brom (15:00 GMT kick-off).
"We will see with Riyad. He is with Leicester, he is finding a good level. After, we will see in the summer."
On Wednesday, Leicester were forced to deny Mahrez had retired after hackers posted a message announcing he was quitting football on his Facebook page.
Mahrez said: "I wasn't bothered. It won't affect me, so I don't know why they try to do that. I think everyone knew it had been hacked."