'Relegation is like fighting forest fire' - Carlos Carvalhal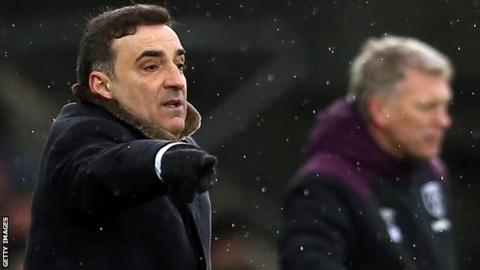 Swansea City manager Carlos Carvalhal says battling to avoid Premier League relegation is like trying to extinguishing a forest fire.
When he was appointed in December, the Swans were bottom of the table with just three wins from 20 games.
But Saturday's 4-1 triumph over West Ham was their fifth in nine league matches under the Portuguese, lifting them to 13th.
"When we came to the club everything was burning," said Carvalhal.
"The first thing we had to do was put water on the fire because you have a big fire around you. When you do this you don't have time to do different things, plan nothing [for next season].
"We are still focused on trying to make the fire disappear. In this moment, it's much better - we've used a lot of water.
"It's like that when there's a fire in the forest. Sometimes the fire can appear again if you don't care about your position in the forest."
Swansea's victory over West Ham moved them three points clear of the relegation zone, though a fiendishly competitive fight to survive means any of the Premier League's bottom-half clubs could drop down to the Championship.
The Welsh side visit Huddersfield - who are also on 30 points but two places lower in 15th - on Saturday with no new injury concerns.
However, midfielder Renato Sanches remains sidelined with a hamstring injury he sustained in January.
The 20-year-old on loan from Bayern Munich has been pictured recovering in his native Portugal in recent weeks, though Carvalhal explained this was part of his recuperation process.
"I said last month that I believe he will be ready this month, so I believe he will be available to start training," said the former Sheffield Wednesday manager.
"He did one part of the recovery here and one part of the recovery he requested to go to Portugal because of the [warm] weather.
"The weather can help a lot with this muscular problem, it is more difficult to recover in the cold.
"We agreed that he can be near the family in different weather to try and be 100% quicker. But he will be here now to do the final part of the recovery."