Barry Bennell: Crewe response deeply disappointing - ex-managing director Hamilton Smith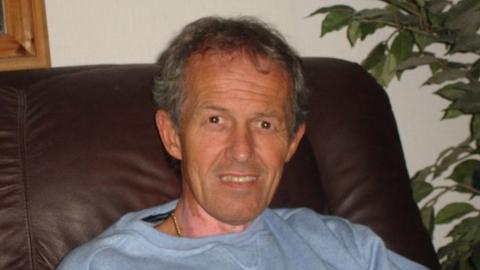 The former managing director of Crewe Alexandra is "deeply disappointed" by the club's denial that they were warned about ex-coach Barry Bennell.
Bennell, who worked for Crewe in the 1980s and 1990s, was last month jailed for 31 years for 50 counts of child sexual abuse.
Hamilton Smith said he raised concerns over Bennell in the late 1980s.
But the League Two club have always said they did not know his abuse while he was employed by the club.
In a statement issued last week, Crewe said they had found no record of Smith's concerns being raised with board members at the time.
It also cited a "thorough" police investigation which had taken place "to determine what knowledge Crewe Alexandra may have had of Mr Bennell's offending".
'Least we can do'
In a statement seen by the BBC's Victoria Derbyshire programme, Smith said: "Those who held positions of authority have a duty to be honest about what happened.
"It is the least we can do now for those victims who have suffered the most horrific abuse while at the club.
"Parents trusted the club to keep their boys safe and the adults in charge, in my opinion, could have done more to protect them."
Smith has previously said that while managing director of Crewe he changed the agenda of a board meeting to deal directly with concerns about Bennell.
He said at a follow-up meeting then-manager Dario Gradi was told the youth coach should not be allowed to let boys stay overnight in his house.
According to Smith, Gradi said there had been no complaints from parents and he did not have a problem with Bennell - who stayed at the club for a further three years.
Crewe Alexandra said they were not aware of any sexual abuse by Bennell and did not receive a single complaint about sexual abuse by him.
The 2 March statement said there was no reference to allegations of abuse being raised by Smith in board minutes held by the club.
"Every available member of the board of directors of the club during the time that Mr Smith was managing director has been interviewed by the police," Crewe said.
"Each and every individual, including the manager of the club at the time, Mr Gradi, has denied having any recollection of Mr Smith raising any allegations of abuse about Mr Bennell at any board meeting in 1988 or ever."
But Smith said he "[stood by] the account that I have given publicly and to the police".
He added: "I am shocked to hear that other individuals have denied any recollection of these events and it is a shame that police have been unable to find any other evidence of this meeting, which took place almost 30 years ago."
Gradi has said previously he did not know of Bennell's crimes until he was arrested in the United States in 1994.
Cheshire Police said it could find no evidence of a conspiracy to cover up allegations of abuse at Crewe Alexandra.
Watch the BBC's Victoria Derbyshire programme on weekdays between 09:00 and 11:00 on BBC Two and the BBC News Channel.