Cardiff City debt remains more than £100m despite cost-cutting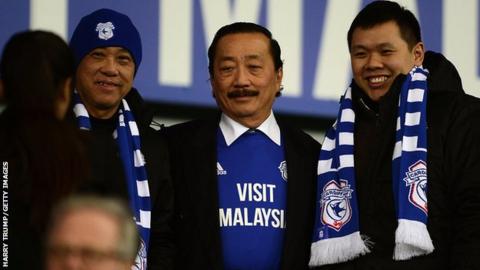 Cardiff City's debt remains at more than £100m, with much of it owed to owner Vincent Tan.
Accounts for the year ending May 2017 show the club made losses of over £21.3m, including a £4.35m drop in revenue.
This was despite efforts to cut the player wage bill to £20.6m, an 18% reduction on the previous year.
Cardiff City chairman Mehmet Dalman said the club was in "good hands off the pitch".
Accounts recently filed with Companies House state that Tan intends to continue to support the club for the "foreseeable future", with debt to the Malaysian businessman and majority shareholders standing at over £115m at the end of the 2016-17 season.
Tan has also written off some of the money owed to him by the Bluebirds following his takeover in 2010, and has converted some of his debt into equity.
The accounts state Tan waived interest owed to him up to May 2017, but "continued to make further funds available in order to provide the company with additional working capital".
They show further borrowing of over £22.1m, including £11m owed to Tormen Finance Inc, "a company which a director of Cardiff City Football Club Limited has a significance influence over".
In his statement, Dalman insisted the club was in "good hands" off the pitch and that manager Neil Warnock was "a catalyst" for "the beginning of a new era where the supporters, the team and the club became united."
He added: "While we still have many challenges ahead of us, I am confident we are well equipped to deal with the tasks ahead."