Dulwich Hamlet forced out of Champion Hill home as row with stadium owner escalates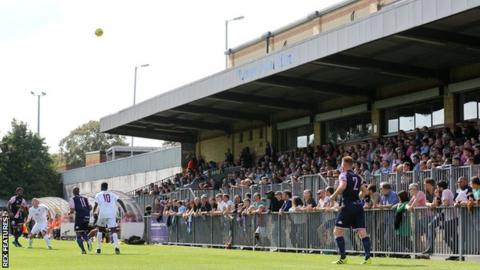 Dulwich Hamlet have been forced out of their ground by the stadium's owner, which has also trademarked the club's name and told them to stop using it.
Property developer Meadow withdrew permission for them to play at Champion Hill, saying the non-league club "repeatedly breached" their licence.
Hamlet appealed for legal help after being served with papers saying they no longer own their name and trademarks.
The club described Meadow's actions as "pure pettiness" and "disgraceful".
A spokesperson for Meadow confirmed that these notices - relating to trademarks for "Dulwich Hamlet Football Club", "The Hamlet" and "DHFC" - had been issued to the current owners of the club by a subsidiary company.
In an earlier statement, Meadow said it had funded the south-east London club, who play in the seventh tier of English football, for a number of years and Hamlet "would not have survived as long as it has" without their support.
Hamlet claim to have been presented with a £121,000 bill for back rent and say they do not believe Meadow has grounds to terminate their licence.
The Isthmian League Premier Division side are now looking for a groundshare for the rest of the season, and are making provisional plans for next season.
Local council calls on Meadow 'to walk away'
This is the latest development in a long-running dispute involving Dulwich Hamlet, Meadow and Southwark Council.
Meadow plans to redevelop Champion Hill, providing residential units and a new ground, but the council has not supported those plans because of various issues including a lack of affordable housing in the proposed development.
Meadow's statement said "neither the council leadership nor DHFC are able to work collaboratively" towards building housing and a new stadium despite their "best efforts to initiate a dialogue".
The council is looking into potentially acquiring the Champion Hill site, but Meadow has already rejected a £10m offer for the land from a company part-owned by former Manchester United and England defender Rio Ferdinand.
Councillor Peter John, the leader of Southwark Council, said the dispute was "really frustrating and upsetting" for supporters of Dulwich Hamlet.
"Every day that goes past without a resolution further jeopardises the future of the club," he added.
"The council is in constant contact with them and we are exploring all options to help them out of their current predicament."