Davide Astori: Fiorentina and Cagliari retire defender's number 13 shirt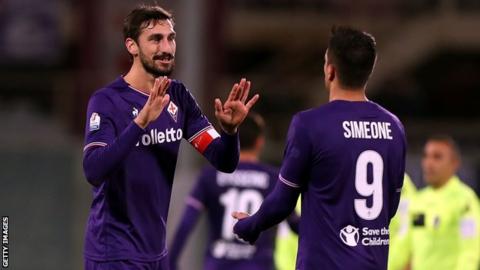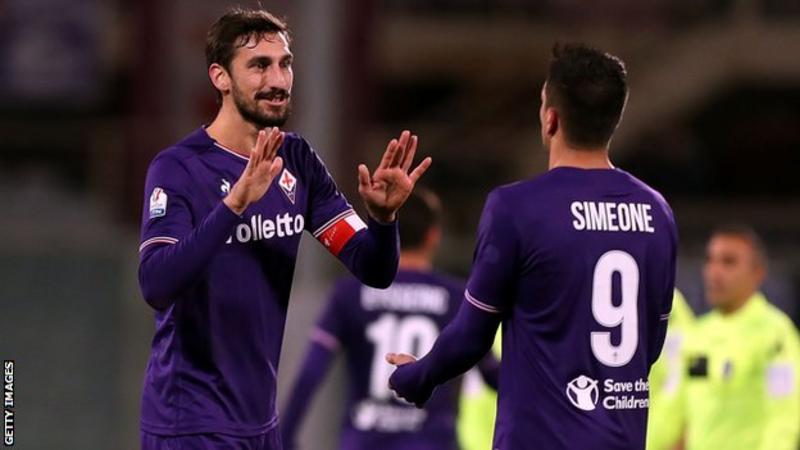 Fiorentina have retired the shirt number worn by Davide Astori, the Italian defender who died on Sunday at the age of 31.
Astori's former club Cagliari, where he spent eight years from 2008, have also retired the number 13 shirt - which he wore at both teams.
Capped 14 times by Italy, Astori joined Fiorentina from Cagliari in 2016.
An autopsy on Tuesday reportedly showed he probably died from a cardiac arrest linked to a slowing heart rate.
On Monday, prosecutors opened a routine investigation into his death.
Udine chief prosecutor Antonio de Nicolo said he had opened a "culpable homicide" inquiry - a routine move before an autopsy in Italy.
Doctors who carried Tuesday's autopsy out referred to a "cardiac arrest without a visible explanation, in all likelihood due to a bradyarrhythmia (slow heart rate)", according to both Corriere dello Sport and Tuttosport.
Astori's body will be taken to Florence on Wednesday before his funeral on Thursday.
"In honour of Davide Astori's memory, Cagliari and Fiorentina have decided to retire the number 13 shirt," a Fiorentina statement read.
Fiorentina were scheduled to play Udinese on Sunday, but all Serie A games were called off.
Astori, who leaves a wife and two-year-old daughter, came through the youth system at AC Milan before joining Cagliari in 2008.
He spent eight years at the club and had loan spells at Roma and Fiorentina before moving permanently to the latter two years ago.
Tottenham manager Mauricio Pochettino said he was "devastated" to hear the news about Astori, whom he tried to sign while in charge of Southampton.
"I want to send all my condolences to Davide Astori and all the people that love him, and I think it's a massive tragedy," said Pochettino.
"I had the possibility to meet him five years ago because it was my idea to sign him when we were at Southampton. I took three hours to have lunch with him and he was a great kid, great person, great professional, great player.
"We share the pain with all the people in Italy and Florence and I send all my energy to his family."
There will be a minute's silence in tribute to Astori before kick-off at Wembley on Wednesday, when Tottenham face Serie A side Juventus in the Champions League last-16 second leg, as there will be in all this week's European fixtures.