AC Milan: Gennaro Gattuso's side 'reborn' going into Arsenal game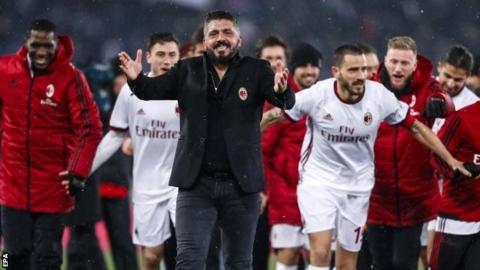 | | |
| --- | --- |
| Europa League last 16 first leg - AC Milan v Arsenal | Venue: San Siro |
| Kick-off: 18:00 GMT - Thursday, 8 March | Live text commentary on BBC Sport website |
When the draw for the last 16 of the Europa League was made, AC Milan sporting director and former Sunderland scout Massimiliano Mirabelli said: "I feel sorry for Arsenal."
His tongue was firmly in cheek but the display of the braggadocio - of the sort you used to associate with this club on big European nights - offered a strong indication of how confident the mood is around Milan at the moment.
In many respects, that's exactly how it should be. Milan spent 220m euros (£201.5m) last summer, buying an entire new team for the price of one Neymar, in an effort to lift this fallen giant back to its feet.
The papers in Italy hyped Milan up as title contenders and installed them among the favourites for the Europa League. By the end of 2017, though, it looked like it had all gone up in smoke.
Vincenzo Montella was sacked in late November. Champions League qualification, essential to mysterious new owner Li Yonghong's development scheme, seemed beyond Milan. Meanwhile investigations by the New York Times and Corriere della Sera raised serious questions about the structuring of the takeover, the sustainability of the project and whether Li is as wealthy as he claims to be.
Milan are currently subject to "monitoring" by Uefa over Financial Fair Play (FFP) regulations, given their outlay on players and their outstanding debts. In December, the governing body, unconvinced by the club's business plan, rejected their application for a voluntary agreement and are currently deliberating which FFP sanctions to impose next season.
Given this backdrop, then, why is Mirabelli so bullish? Enter Gennaro 'Rino' Gattuso.
AC Milan's February form
Date
Competition
Opponent
Result
4 February
Serie A
Udinese
Drew 1-1
10 February
Serie A
Spal
Won 4-0
15 February
Europa League
Ludogorets
Won 3-0
18 February
Serie A
Sampdoria
Won 1-0
22 February
Europa League
Ludogorets
Won 1-0
25 February
Serie A
Roma
Won 2-0
28 February
Coppa Italia
Lazio
Drew 0-0 (AC Milan won 5-4 on penalties)
As a kid growing up on the Calabrian coast, Gattuso used to dream about becoming a fisherman. Before footballers, he idolised the local trawlermen. He'd help them unload their nets as they returned to port and was rewarded with some shellfish to sell on the streets of Schiavonea, his hometown on Italy's Ionian coast.
Flash forward to late November and you might say Gattuso landed the biggest fish of his career: the top job at the club for which he had been a legendary player.
Promoted from his role with the under-19s, many thought he was out of his depth and that Milan were merely repeating the kind of mistakes made towards the end of Silvio Berlusconi's time as owner: appointing former fan favourites with little or no managerial experience. Before Gattuso there had been Clarence Seedorf, Filippo Inzaghi and Cristian Brocchi, all of them former team-mates of Gattuso.
Gattuso's coaching CV didn't exactly inspire confidence. Aside from taking Pisa up to the second division, this new chapter of his career was best known for a news conference he gave at OFI Crete in which he went on a fantastic rant in broken English, complete with Greek expletives.
In truth, however, it was hard to judge him as a manager. At Palermo and Swiss side Sion, where he started his managerial career in 2013, he worked under owners who would sack Pep Guardiola and Jose Mourinho depending on which side of the bed they woke up on.
Meanwhile, Pisa and OFI Crete both went bust. Times were so tough during his time at the former that when the players ripped his 150 euro shirt while celebrating promotion, he joked: "I can hardly ask them to pay me back, given the situation."
Framed by the media as a caretaker manager when Milan announced his appointment in the winter, the expectation was that Gattuso would keep the bench warm while the board made overtures to Chelsea boss Antonio Conte about returning to Italy at the end of the season. But Mirabelli dismissed such talk out of hand. "Gattuso is not a caretaker," he insisted.
Three months later it's apparent Mirabelli was not paying lip service to his fellow Calabrian. Against the odds, Gattuso has shown he belongs at this level, proving the doubters wrong, just as he did as a player.
The signs weren't promising at first. In Gattuso's first game in charge in December, Milan became the first team to drop points to Benevento, the worst team in Serie A history, conceding a stoppage-time equaliser to their goalkeeper Alberto Brignoli. Then they were thrashed 3-0 by relegation-threatened Hellas Verona and embarrassed by Croatian side Rijeka in the Europa League.
The club cancelled its Christmas party and the players were made to live at the training ground until they sorted things out.
If Milan did not come through a cup tie against Inter on 27 December, there was talk of Gattuso going the same way as Seedorf, Inzaghi and Brocchi. To him it was "a World Cup final" and Milan played as if their lives depended on it, knocking their 'cousins' out in extra time.
Since then they haven't looked back. Milan are on an extraordinary run. Unbeaten in 13 games in all competitions, they have started beating the teams above them, winning six straight games and booking their place in the Coppa Italia final.
Reaching the Champions League, either by finishing fourth or winning the Europa League, remains a long shot but belief is growing as momentum gathers.
Gattuso has approached the job with the same humility he showed as a player. He had to sweat to get to the top and work even harder to stay there, and his honesty has always been pretty amusing. "When I watch Pirlo play I ask myself whether I can truly be considered a footballer," he said once.
And yet Gattuso - who also likes to remind people that "I was still playing on the beach at 13, can't take a free-kick or set up a goal" - still managed to win everything. He overcame his limitations.
As a coach, Gattuso is simply getting Milan to meet expectation. He works his team hard. He playfully calls 21-year-old Davide Calabria a 40-year-old because the full-back is always asking for a break in training as if he's too old for this. But the players love it.
They're fitter and stronger than under Montella and it shows. Far from reinventing the wheel, Gattuso has merely applied common sense. He asked himself: if 4-3-3 worked for Milan last year, why can't it this year? And how about lining players up in their natural positions? That ought to do the trick.
"I'm not a great coach," Gattuso protests. "I've gained a lot of experience and still have a lot to learn. Lately people are talking too much. It's as if I've become some guru of coaching… I'm not."
The little things he has done add up to a lot, however: settling on a back four; promoting Calabria from the youth team; tightening a defence that now looks every bit the future of the national team with Gigio Donnarumma, Alessio Romagnoli and Leonardo Bonucci keeping a clean sheet for almost 10 hours.
It doesn't end there. He has got Milan's big-money signings Lucas Biglia, Hakan Calhanoglu and Bonucci to play to their potential. He has balanced Milan's attack to make them less right-sided, less dependent on Suso, and more unpredictable. He has turned a group of strangers into a team that fights for one another. And all with the charisma of a cuddly bulldog.
Milan were excellent against Sampdoria and Roma before tragic circumstances saw last weekend's games called off. The side waiting for Arsenal at the San Siro, where enthusiasm is high, are in form and rested.
"I'm not Padre Pio," Gattuso said at his unveiling, referencing a Catholic saint. But if he gets Milan into the Champions League he will have worked a minor miracle considering his starting position. Milan are 'rinati' under Rino. Reborn.