Dundee United: New chairman Mike Martin says Csaba Laszlo's job is safe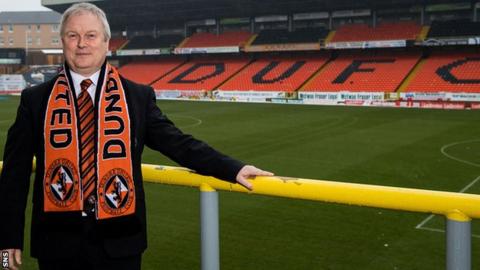 New Dundee United chairman Mike Martin says Csaba Laszlo will remain manager of the club even in they fail to gain promotion to the Scottish Premiership.
Martin became United chairman last week when Stephen Thompson stood down.
When asked if he expects Laszlo to stay next term, Martin said: "I do, in fact I have spent a fair bit of time with Csaba planning for the remainder of this season and next season."
Martin also said administration is not a concern for the Tannadice club.
United are fourth in the Championship table, in the last promotion play-off place, but are 17 points adrift of leaders St Mirren.
They have three games in hand over the sides above them, but whether they are promoted or not, Martin says they will continue to be a full-time club.
"For next season we have to look at two scenarios," Martin said. "One where we are in the Premiership and one where we remain in the Championship. I sincerely hope it's the former but we are budgeting for the latter in the event that's where we end up."
When asked if there is a fear the club could enter administration if they fail to secure promotion to the top flight, he added: "No. To be honest, while we have fiduciary duties as directors and we have to consider a number of different scenarios, we really don't spend a lot of time in talking about administration because we believe we have got funding routes in place that will enable us to continue and hopefully to thrive in the not too distant future."
Martin, who recently bought a 30% shareholding in United and purchased their GA Arena youth training facility, served in the financial sector for 35 years.
But he admitted that when it comes to football, the heart often rules the head.
"I'm not the first and I won't be the last businessman to put money into football," added Martin, who also said the club have signed an extension to their contract with St Andrews University, where the first team train.
"I think for many of us football is in the blood. We love our teams and we want to do whatever we can to achieve our ambitions. In the case of Dundee United clearly we are struggling a bit just now and so I felt I should stand up and be counted.
"There are a few things we need to look at both on and off the pitch. Most importantly on the pitch because clearly our objective is to get back into the Premiership sooner rather than later. We still think that we can achieve that this season.
"I know the odds are against us now and many people are predicting we won't make it but we actually have still a very high degree of confidence that we will get up this season. So I will do whatever is in my power to help the manager and the team achieve the ambition of getting back up this season.
"I think in parallel we are also starting to look generally at the infrastructure within the club and to see where changes have to be made to give us very strong foundations for the future."