'Davide Astori's death leaves Fiorentina and Italy in state of shock'
By James Horncastle
European football writer
Last updated on .From the section European Football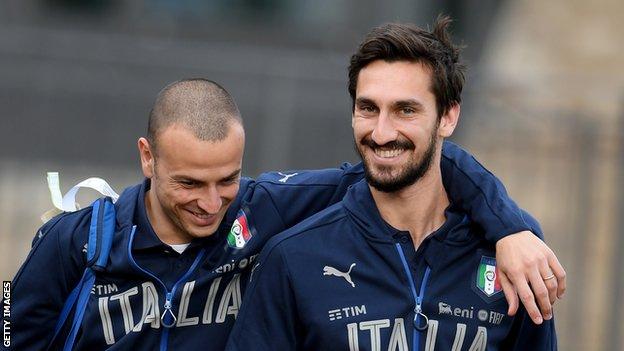 When Fiorentina went on the road, Davide Astori was always the first one down to breakfast at the team hotel.
So when the 31-year-old didn't show in the restaurant of the team hotel in Udine on Sunday morning, his team-mates knew something was wrong. To check everything was OK, the team's masseur went to Astori's room to see him. Tragically, the centre-back had died in the night from what his club have described as a "sudden illness".
The news has left his friends and family, club and country in a state of shock. As Italy went to the polls on election day, the former prime minister, ex-mayor of Florence, Partito Democratico leader and big Fiorentina fan Matteo Renzi tweeted: "It seems impossible to me. I cannot believe it."
Fiorentina's goalkeeper Marco Sportiello was apparently with Astori playing Playstation until 23:30 the night before.
Understandably, Sunday's game at the Dacia Arena against Udinese was called off. "In times like this everything else loses its importance," tweeted Udinese coach Massimo Oddo. "I am shocked by this terrible tragedy."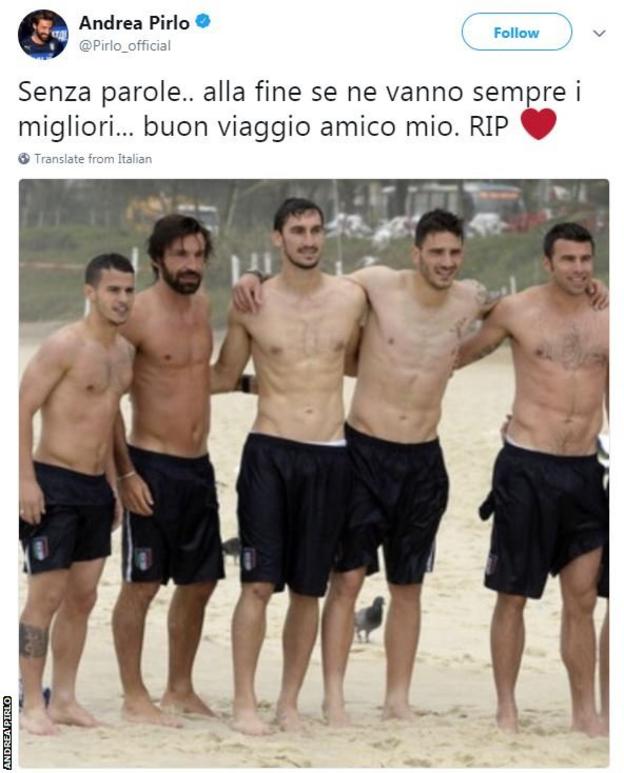 As the story broke, Astori's former team Cagliari, where he spent six years, were about to kick off their match against Genoa. The players were told the news during the warm-up. Genoa goalkeeper Mattia Perin broke into tears, while former Cagliari manager Massimiliano Allegri, now with Juventus, said "coaching him was a privilege".
Astori played with Cagliari's current coach Diego Lopez and his assistant Alessandro Agostini, as well as veterans Andrea Cossu and Marco Sau. The whole team were frequent visitors to Astori's ice cream parlour Cremoso, which he opened with another former team-mate Lorenzo Ariaudo, now with Serie B leaders Frosinone.
Seven of Astori's 14 caps for Italy came while he was at Cagliari and the goal he scored against Uruguay in the 2013 Confederations Cup third-place play-off was the first by a player from the Sardinian club since the days of Gigi Riva in the 1970s. It was a source of great pride for the island and its football. As was Astori's decision to turn down a lucrative offer from Spartak Moscow in 2012 to stay with them for another couple of years.
In 2014 Astori left for Roma, following Radja Nainggolan to the Italian capital with the aspiration of fighting for the league title and playing Champions League football. "A great player and an even greater person," the Belgium international posted on Instagram. Rudi Garcia, Roma's coach during Astori's time at the Stadio Olimpico, called him "an exemplary professional and guy".
When the announcer relayed the news of the postponement of the Genoa-Cagliari game to the fans at the Stadio Luigi Ferraris, the crowd applauded his memory. Soon afterwards, Damiano Tommasi, the president of the Italian PFA, called for all of Sunday's games, which included the Milan derby, to be called off. It was the appropriate course of action and it was taken. As Italian TV went around the grounds you were struck by just how many lives Astori had touched.
In Bergamo, Atalanta were down to play Sampdoria in what was being billed as a Europa League play-off. Astori had never played for the Bergamaschi but this is where he was from. Born in nearby San Giovanni Bianco, his first steps on a football pitch were taken at Ponte San Pietro, a satellite club of AC Milan, who saw a big future in Astori and drafted him into their academy aged 14.
Further north in Verona, Chievo and Sassuolo were preparing for a relegation six-pointer. However, both sides featured players who knew Astori well. Sassuolo striker Khouma Babacar was with him at Fiorentina until he switched clubs at the end of January.
Another, Alessandro Matri, was in Milan's academy at the same time. The pair were at Cagliari together for years, along with other current Sassuolo players Simone Missiroli and Davide Biondini. In Chievo's case, centre-back Nenad Tomovic partnered Astori in defence in Florence.
Astori initially joined Fiorentina on loan in 2015 before making the move permanent the following year. Their president, Andrea Della Valle, has revealed that Astori would have signed a new contract with the club on Monday after an initial meeting was moved from last Thursday because of the chaos caused by the bad weather.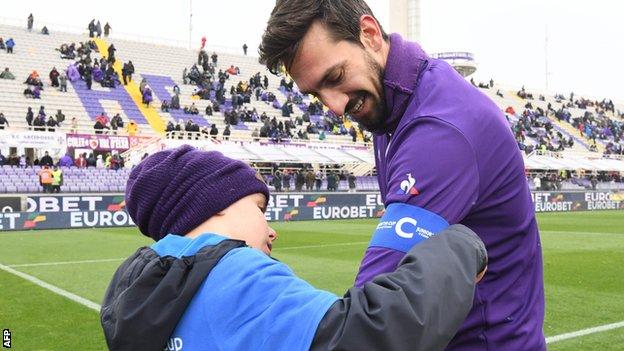 You forget what a small world football at the highest level is. The moments shared on international duty or at training camps with players selected from across the country. You forget that footballers are human too; pictures of health, regularly checked with access to the best medical advice and treatment around but no less vulnerable than the rest of us.
The Astori tragedy has evoked memories in Italy of the deaths of Perugia's Renato Curi in 1977, Roma's Giuliano Taccola in 1969, and, in 2012, Livorno's Piermario Morosini. It also struck Roma's sporting director Monchi to the core. "I know the suffering, how it feels, the pain you're going through," he wrote, "because I unfortunately went through it with Antonio Puerta [at Sevilla]."
Processing it all is difficult. But a phrase from the former AC Milan and Italy manager Arrigo Sacchi springs to mind. "Football is the most important of the least important things in life." And those words feel particularly apt today.
Astori leaves a wife Francesca and a two-year-old daughter Vittoria. Bunches of flowers were left outside the Stadio Artemio Franchi. A banner was also tied to the ground's green gates. It simply read: "Ciao Capitano."