Dundee made loss of £354,000 in season 2016-17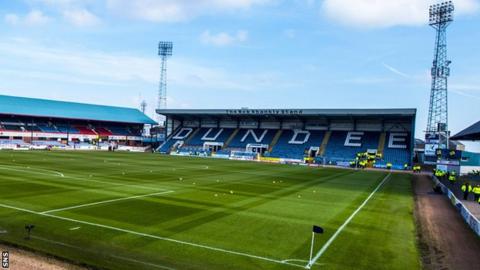 Dundee have announced a loss of £354,000 for the year to May 2017.
The Dens Park side, who are currently ninth, finished 10th in the Scottish Premiership in season 2016-17.
In a statement, the club said they underperformed by not claiming a top-six finish and that the losses would be covered by main shareholder FPS.
FPS have 'committed to keep funding available' to Dundee until they complete a proposed move to a new stadium, which is due by 2020-21.
The club has received advances of £785,000 from FPS, making an aggregate of £1.28m, which they intend to be turned into share capital.
"The board intend to issue additional shares to a value of £1.5m and this will make FPS the holder of 75% of the equity," the statement read.
"FPS have also indicated they will transfer their shares to Dark Blue Properties Limited. This is the company which is undertaking the development of the new stadium. Dark Blue Properties is owned jointly by [Dundee managing director] John Nelms and [club chairman] Tim Keyes."
Dundee say they "have the commitment of its major shareholder that funding is available to us" until the proposed new stadium is built near the city's Camperdown Park.
The Dark Blues, who replaced manager Paul Hartley with Neil McCann towards the end of last season, hope continuing losses will be reversed by the Scottish Professional Football League's future broadcasting deals, with the league's current arrangements with Sky and BT running until 2020.
"The company expect to make additional losses in the current year and in each of the subsequent years until a new TV deal generates more money for all the clubs in the SPFL," the club added.
"The size of these losses will depend on field success and the level of support from fans. The club can currently bank on a core home support of around 3,500 and an increase of 1,000 is a target that would put the club essentially into a breakeven position.
"The club believe they underperformed in 2016-17 season, failing to make the top six. The change in managers in 2017 has brought a change in the style of play. This necessarily meant the changing of playing personnel and this brings with it costs of an enlarged playing squad.
"It is hoped the size of the first team squad can be reduced next season. The directors believe continuity in the management of the club is the route to success."
Meanwhile, Dundee's Premiership match away to Celtic, which was postponed on Wednesday, has been rearranged for Wednesday 4 April.