Dundee United: Mike Martin replaces Steven Thompson as chairman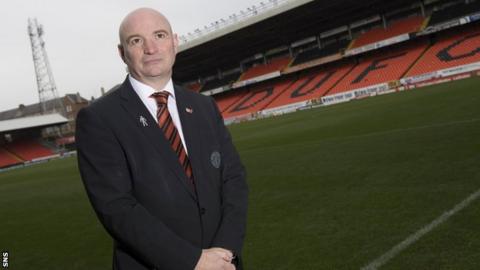 Stephen Thompson has resigned as chairman of Dundee United, with Mike Martin replacing him at the helm of the Championship club.
United also confirmed that Thompson intends to "dispose of the bulk of his current shareholding during the next few months as he pursues his own global business and sports ambitions".
Martin recently acquired a 30% shareholding in the Tannadice outfit.
He also bought the club's youth training facility last week.
In a statement, United said Martin "brings a wealth of corporate financial and commercial experience to the chairman's position, having served in the international financial sector for over 35 years, including various senior roles at HSBC and, currently, Euroclear Bank, where he is an independent non-executive director and chairman of the risk committee".
It was revealed in January that Thompson would leave his post at the end this season, having been chairman for almost a decade.
Dundee United are currently fourth in the Championship, 17 points behind leaders St Mirren but the Tangerines have three games in hand. Their midweek meeting with Queen of the South and Friday's match against St Mirren - both at Tannadice - were called off because of the weather.
Martin said: "I know that Dundee United has excellent potential and when the opportunity arose to purchase a significant shareholding in the club I saw it as a real chance to contribute more effectively to the challenge of turning round the club's fortunes.
"Being elected chairman puts me in a position to further influence the change of direction required to revive the fortunes of the club, working alongside my experienced and committed colleagues in the boardroom.
"It is clear that Dundee United benefits from an excellent staff and arguably the most loyal and passionate support base in the country. We have all experienced pain in the recent times but I ask all fans to judge me, as chairman, on my actions and get behind the club as we look to ensure a bright long-term future."