Swindon Town: Interim boss Matt Taylor determined to maintain promotion push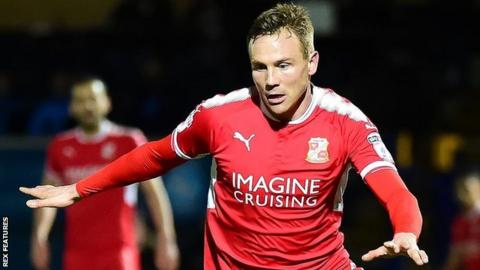 Matt Taylor is determined to maintain Swindon's promotion push following the departure of manager David Flitcroft.
The 36-year-old midfielder was put in charge by chairman Lee Power after Flitcroft moved to Mansfield Town.
"I've been asked to help the club and it's an opportunity for me to gain some experience," he told BBC Wiltshire.
"But it's not about Matt Taylor, it's about can we galvanise this team into pushing for promotion for as long as I'm asked to do so. I believe we can."
The Robins are currently seventh in League Two, five points below the automatic promotion places, with 11 games still to play.
Taylor has no intention of putting his boots aside during his spell as interim boss, during which he will be assisted by goalkeeping coach Dean Thornton.
"I'll be player-manager until I am told otherwise or until the club decide they are going to appoint somebody else. But that's irrelevant to me. What's important for me now, and Dean is what we do is prepare the team correctly," he said.
"It's about every single individual giving their all, 100% commitment to everything that is asked of them, and that includes me. I can't ask for any more than that."
Taylor, whose previous clubs include West Ham, Burnley and Northampton, has been planning a coaching career for the last few years and has sought advice from two current managers, whose names he declined to reveal.
"One that I'm close to, and is extremely successful, said just go and be you in the manner that you address people and just be 100% honest with everyone you speak to. From a personal point of view, I'll be up front with everybody and deal in facts and nothing else," he added.
"I believe there is a very good opportunity this season to get promoted. There seems to be a bit of doom and gloom, but I'm maybe the eternal optimist and look at it slightly differently, and we've got an opportunity to get this club promoted. Our future is in our hands."