Carlos Carvalhal: Swansea have 'mental advantage' over relegation rivals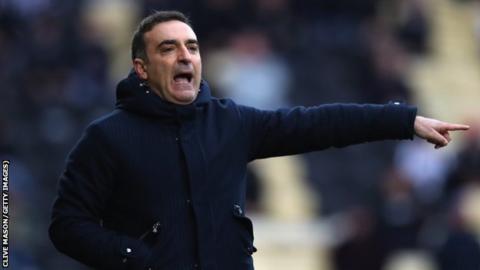 Swansea City manager Carlos Carvalhal believes his team have a psychological advantage over their relegation rivals due to their recent run of form.
The Swans face a West Ham side on Saturday which have won one of their last five league games and sit three points clear of the relegation zone.
Swansea slipped back into the bottom three last weekend, but have won three of their last five league games.
Carvalhal said: "We are winning more than we are losing."
Swansea were 17th and West Ham were 10th at the end of January, but victories over the likes of Liverpool and Arsenal have brought the two teams closer together.
"We've come from low down and we are progressing," said Carvalhal, who took charge at the end of December.
"In the last eight or nine games we are one of the teams that have achieved more points in the competition."
Carvalhal said coming down "to do battle" near the relegation zone from eighth or 10th place is "more mentally difficult to deal with".
The Portuguese manager also dismissed his side's 4-1 defeat to Brighton & Hove Albion last weekend as part of their "path" and something which "happens to all the teams in the world".
Carvalhal's challenge to the fans
Carvalhal said victory over his former club Sheffield Wednesday in Tuesday's FA Cup replay will lift the players for Saturday.
He also called on the fans to get behind the team during their game against West Ham.
"For us, the big challenge is to the fans. I really respect what the fans have given us, home and away, and especially in the last couple of home games they were really powerful and they gave a lot of support," said Carvalhal.
"We will try to do our best to get the three points against West Ham and I hope our fans understand their support is very important and we want to hear them from the first minute to the last minute.
"To achieve three points we need a big commitment from players and from the fans."