Jeff Stelling: Hartlepool United takeover bid 'needs extra funders'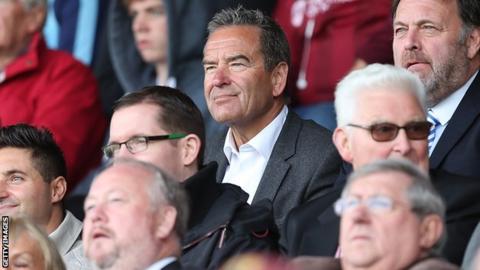 TV presenter Jeff Stelling has appealed for partners to invest in a consortium to take over boyhood club Hartlepool.
Pools, who are up for sale amid rising financial pressures for current owners HUFC Holdings Limited, have had interest but no concrete offers.
Stelling and a Teesside businessman say they have £1.2m to invest but need another £600,000 to achieve their aims.
"We can't afford to find ourselves in the same position 12 months from now," Stelling said.
"We need sufficient funding in place to guarantee the club's long-term future. Our money is there and waiting if we can find the extra funds, but time is running out.
"Though it breaks my heart to say it, I don't believe the club can survive much longer. The club needs investment and it needs it now."
Fans have already contributed sums to pay off HM Revenue and Customs debts and also to meet the club's financial commitments for February.
Boyhood fan Stelling had previously helped attract the interest of businessman Chris Musgrave, who walked away from any deal after reviewing the club's accounts.
However, the 62-year-old is confident the foundations are in place to complete the deal if they can find the necessary financial support.
"We have done due diligence and any serious investor is welcome to look at the report," he said. "We have been working hard on this for the past couple of months, but we now feel we need the extra funding within the next week or it may be too late.
"There has been rumour after rumour about people with plans to save Pools, but nothing has happened and things are getting desperate.
"I remember standing on the terraces with my late sister Sue in the early 1960s. I can't bear the prospect of this club going to the wall.
"I just hope there are some wealthy individuals or businesses out there that may feel the same. The town would be forever grateful."