Blackpool: League One side's losses increased to £2.2m during 2016-17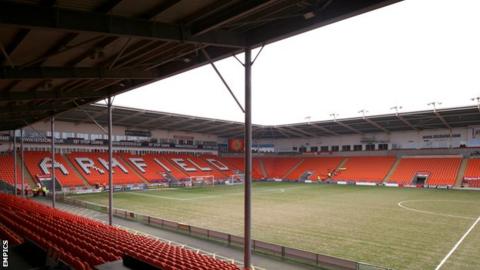 Blackpool's losses increased from £1.7m to £2.2m during the 2016-17 season when they were promoted back to League One.
Accounts for the financial year ending 31 May 2017 show turnover was £3.8m for which the £2.2m losses were made.
The Tangerines won promotion back to the third tier through the League Two play-offs after relegation in 2015-16.
The club's owners, the Oyston family, also owe at least £20m to Latvian businessman Valeri Belokon after losing a High Court battle in November.
Mr Justice Marcus Smith ordered a "financial buyout" of Mr Belokon's company VB Football Assets, worth around £31m, after a civil trial, but Owen Oyston and his son Karl missed the deadline to pay a £10m payment earlier in February.
However, an independent audit given as part of the accounts, which were prepared as a going concern, says the impact of the judgement creates "material uncertainty" over debts held by the club which stand at £27.1m.
The audit states it does not have "sufficient evidence" to suggest the club or the adjoining hotel at Bloomfield Road, listed as Blackpool Football Club Hotel Limited, can pay off any of the debt that is owed.
The accounts also showed that season ticket receipts have dropped every year for the past five seasons, with revenue slipping from £2,607,490 for the 2012-13 season to just £223,801 last term.