Ryan Giggs: Wales manager visits Bale to push China Cup attendance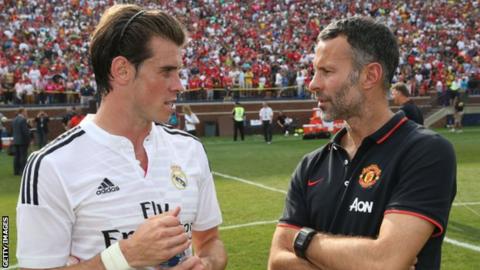 Ryan Giggs visited Gareth Bale last week as he continues to tempt the Wales talisman to the China Cup next month.
New boss Giggs will take charge of his first Wales game at a tournament against hosts China on 22 March.
It is understood Wales will receive a greater appearance fee if key players make the 12,000-mile round-trip.
However, the final fixtures take place the week before the Champions League quarter-finals, which Bale's club Real Madrid could be in.
Giggs is yet to complete the recruitment of his backroom staff but it is expected to include Osian Roberts.
Speaking ahead of the Laureus World Sports Awards, Giggs conceded Bale was frustrated with his lack of recent game time, but revealed he is upbeat about the national team's trip to China.
"Unfortunately he wasn't starting but I got good time to chat to him," Giggs said.
"He's fit and looking really good. He made an impact when he came on against PSG.
"Everyone in Wales knows how important Gareth is. A fit and well Gareth Bale makes such a difference.
"(The speculation about his future) doesn't concern me, he's at a brilliant club. When you're at a top club, as I know, you're constantly under scrutiny. I went to see him and he was happy.
"He wasn't happy he didn't start but the next few games he started. Everybody knows a how important a fit Gareth Bale is. He was really positive about the first trip (to China).
"It's a difficult time of the season, I recognise that with players in the Champions League and players going for trophies, players trying to fight relegation.
"Ideally I want everyone there. We're constantly monitoring the lads carrying knocks and we won't take any chances, but ideally I want everyone I pick to come."
Ramsey also a China Cup target
Aaron Ramsey is another player Giggs would like in the Far East, though he too has battled injury problems like Bale.
Giggs spoke of Ramsey's situation at Arsenal as the midfielder's deal is thought to run out in 2019.
The 27-year-old has spent a decade in north London and Giggs, a one-club man with Manchester United, has told Ramsey such longevity is important.
"He's at a good club," Giggs added.
"From a personal point of view, when you're at a club you're used to, it can help you. You know all the staff and the players.
"So any player who is having talks with contracts, you want it sorted out as quickly as possible.
"I was always happy. There was always a challenge at United so I never saw any reason to leave. I was happy playing my football. I never got bored or felt the need to go anywhere else.
"I hope Aaron sorts it out sooner rather than later."