Paris St-Germain v Real Madrid: The curious love affair between PSG and Brazilian footballers
Last updated on .From the section European Football86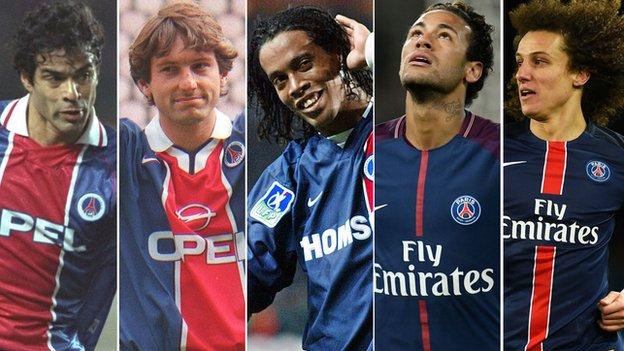 Balls of blistering light stalking shady streets, the Eiffel Tower crackling canary yellow and tropical green, classical strings giving way to a jaunty samba beat.
Belle Paris and 'jogo bonito' in perfect union.
Marketing spin certainly, but there is truth behind it.
A search through the records of Real Madrid - Tuesday's Champions League last-16 opponents - reveals a total of 24 Brazilians have pulled on the famous white shirt.
Domestic rivals Marseille have had 28 Brazilian players in their 119 years of existence.
Paris St-Germain, only established in 1970, have had 31.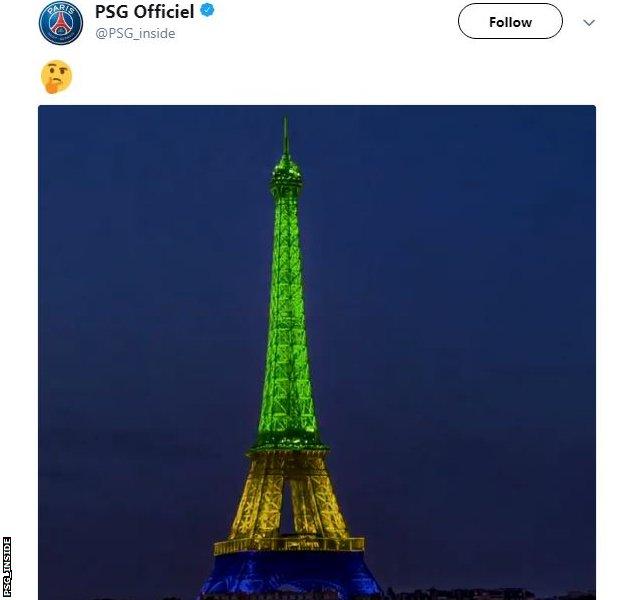 Even with Neymar absent with injury, their starting line-up on Tuesday could well contain three of his compatriots - Thiago Silva, Dani Alves and Marquinhos.
So how has a city without a common climate or language, lacking either a long history or sizeable expatriate population, become a favourite staging post for Brazilians coming to Europe?
It was a question that Rai was asking himself in November 1993.
A tall, languid playmaker with deft touches and sharp instincts, he had scored twice as Sao Paulo beat Barcelona in the Intercontinental Cup final the previous year, heralding a big-money move to Europe and Paris St-Germain.
"It was so different from Sao Paulo. The training was different, the city was different. I had been there a month before I saw snow for the first time in my life," the Brazilian midfielder told BBC Sport.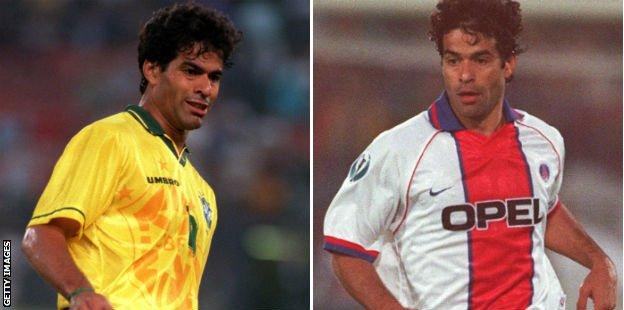 "My children were having some difficulties at the school. But six months later, the adaptation was done."
And successfully. Rai scored 72 goals in 215 appearances for PSG. When he headed back to Sao Paulo at the end of a five-year spell it was in tears. He was awarded the Legion d'Honneur in 2013 and he still returns several times a year to the French capital.
The younger brother of deep-thinking deep-lying Brazil icon Socrates, one of Rai's motivations for the initial move was not a contract-negotiation staple.
As a former history student, he was intrigued by the chance to live among the same streets that had spawned revolutions and radicalism.
His other reasons were more common.
"I really liked the proposal of PSG. There were big ambitions with investment from Canal Plus at the time," he added.
"I also had two big friends at PSG - Ricardo Gomes and Valdo. They helped me a lot."
Firstly, the 'proposal'.
PSG's history may be short, but it is full of big plans. From the start they involved bringing in box-office players, and recruiting from Brazil was an instant shot of glamour and romance.
They may now have Brazil's crown prince among their ranks, but they almost had the king.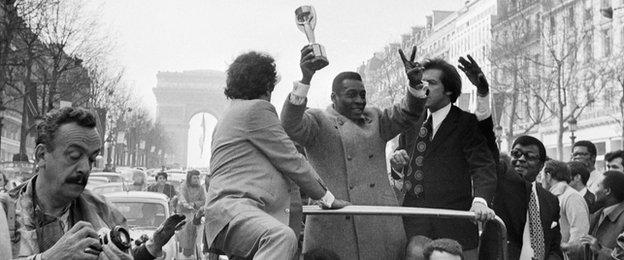 In 1971 then-president Guy Crescent had travelled to South America to secure Pele as a statement signing while his newborn club prepared for their first top-flight season.
Pele opted to stay instead at Santos and Crescent's marquee signing was downgraded. Joel Camargo - an unused squad player from Brazil's fabled World Cup campaign a year earlier - arrived in Paris and underwhelmed.
But when a succession of new owners tried to turn the French capital's premier club into a European powerhouse, the tactics were often similar.
French broadcasters Canal Plus started pumping in money to revive the club in the 1990s, bringing in the likes of Rai, Leonardo, Valdo and, later, Ronaldinho.
The Qatari petro-dollars, which arrived in 2011, were lavished on Thiago Silva, Marquinhos, David Luiz, Lucas Moura and Dani Alves, before the world-record £198m arrival of Neymar.
Brazilian players with more than 100 appearances for PSG

Marquinhos

2013-present

Lucas Moura

2013-18

Maxwell

2012-17

Thiago Silva

2012-present

Nene

2010-13

Marcos Ceara

2007-12

Rai

1993-98

Ricardo Gomes

1991-95

Valdo

1991-95
Julien Laurens, French football writer, BBC Euro Leagues podcast host and lifelong PSG fan, says Brazilian players have become the essential accessory to fill shirts originally designed by Parisian fashion doyen Daniel Hechter.
"It is a glamorous team for a glamorous city," he told BBC Sport. "There are so many things to do in Paris, that if you don't have those players to draw people in, the crowds won't turn up.
"It was the perfect match; PSG's need for a certain style and swagger and the atmosphere and parties in the city that the Brazilians enjoyed.
"That link is pretty cool and it is part of the Paris St-Germain image. If they had had 31 Macedonian players they probably wouldn't brag about it so much."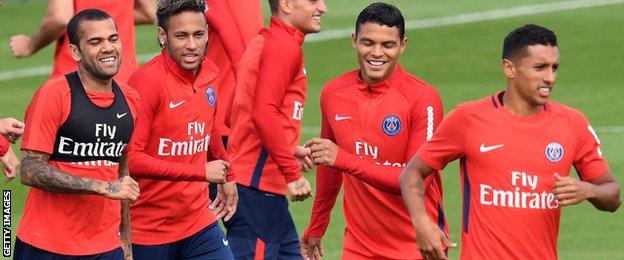 Secondly, the friendship.
While Paris does not have the thriving Brazilian expatriate population of London, the dressing-room community at PSG has become a self-perpetuating trend.
The tradition of Brazilian players at Paris St-Germain - embedded by Rai and his team-mates - attracts more, who in turn build the image, which attracts more.
"Apart from a time in the 2000s when Lyon had a side which included Juninho Pernambucano, Cris, Claudio Cacapa and Sonny Anderson, PSG has always been the French club for Brazilians," adds Laurens.
"When he was leaving Sao Paulo in 2012, Lucas Moura had the chance to go to Manchester United, but chose PSG instead.
"If it had been another German club or Italian club also trying to sign him then I don't think he would have snubbed United
"But PSG played up the Brazilian heritage they had. The money was better in Manchester and it is bigger club, so I think that history and link was a big part of his decision."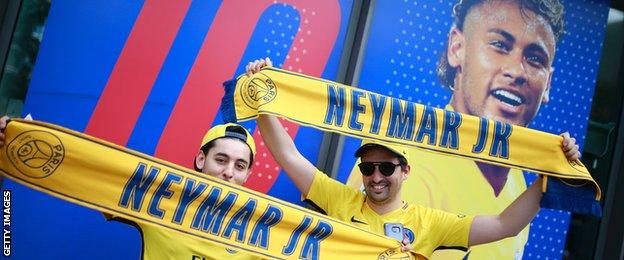 Rai - who now works as a brand manager back in his homeland - sees both sides of the relationship.
"There are now more and more PSG shirts in Rio, Sao Paulo, Brasilia. It started with me and then Ronaldinho and now Neymar. It is now a big, big brand in Brazil," he adds.
"I think we started a new kind of relationship."
It has not always been happy and harmonious.
Laurens reckons more than half of PSG's 31 Brazilians have been "dreadful", citing 2007 double signing of Everton Santos and Willamis Souza as a particular nadir.
But PSG's current owners are spending the sort of money that guarantees quality, rather than playing pot luck with unknown quantities and crossed fingers.
Their players are imported for inspiration, not just decoration.
Overhauling Real Madrid - especially without figurehead Neymar - would be a new high for the City of Light and its constellation of Brazilian stars.