Cyprus Cup: Finland v Wales (Wed)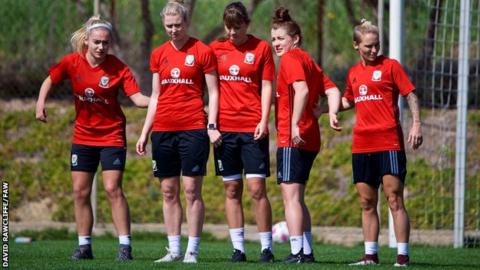 Cyprus Cup: Finland v Wales
Venue: Antonis Papadopoulos Stadium, Larnaca Date: Wednesday, 28 February Kick-off: 11:00 GMT
Wales will be hoping to improve on last year's sixth place finish when they take on Finland in their opening game of the Cyprus Cup tournament.
Jayne Ludlow's side are in Group A with last year's winner's Switzerland and Italy.
Captain Sophie Ingle leads a squad that includes centurion Jess Fishlock, Helen Ward and Natasha Harding.
Fishlock said the game will be great preparation for April's 2019 World Cup qualifier against England.
Wales currently sit top of Group One after four games, and are yet to concede a goal at the midway point.
After Finland, games follow against Italy, on Friday, 2 March, and Switzerland three days later with the finals day on Wednesday 7 March.
Midfielder Fishlock, who recently celebrated a third successive Grand Final victory with Melbourne City, said she was excited to be back in the Wales camp.
"I haven't seen the girls for a while. I go around the world and am around great people, but there's not many people better than Welsh people," she said.
She said she was not taking a break after busy seasons with her clubs Seattle Reign and Melbourne City, but was using the tournament to "get back into the groove".
"We want to make sure we're the best we can be when we have our game against England," Fishlock added.
"We've had a fantastic start and we all know what we're fighting for."
Fishlock also gave her views on the appointments of former Manchester United team mates Ryan Giggs as Wales men's manager and Phil Neville as England women's manager.
She said she was looking forward to going up against Neville in what will be his first competitive match in charge of the Lionesses.
She described his appointment as "an interesting one".
"It was the FA's choice, and there's elements to it which I feel can be nothing but great for the England girls, but there's an element to it that anyone coming up against them in the next six months can really feel like it's a great time to play them," Fishlock said.
'Respect'
"When a new manager comes in, it always takes a bit of time for them to get across how they want to play... there's always that transition period, we went through that with Jayne."
Speaking of Giggs taking over from Chris Coleman, Fishlock said: "I think he'll be great... I can't wait to see him carry on and take the boys to another tournament.
"I know there's a lot of people who think he didn't like to play for Wales, but I don't think that's the case at all."
She said anyone playing for Wales will look up to and respect Giggs because of everything he achieved as a player.
"It doesn't necessarily correlate with being a manager... but he completely understands how it works to be a footballer and that absolutely helps."