EFL Trophy: Wembley a 'great motivator' for Shrewsbury and Yeovil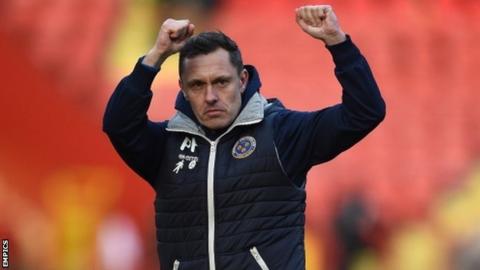 Shrewsbury Town boss Paul Hurst says the prospect of playing at Wembley should motivate not only his own side, but also Tuesday's EFL Trophy semi-final visitors Yeovil Town.
Shrewsbury have not won at Wembley in three previous visits - and Hurst was part of the Rotherham side that caused the first of those defeats in 1996.
But he says the key to returning as manager is to not underestimate Yeovil.
"We're favourites. We can't get away from that," he told BBC Shropshire.
"To get to Wembley would be fantastic. It's a fabulous prize that will certainly motivate Yeovil and it should motivate us too.
"But the crowd have got their part to play. It's no use thinking all they've got to do is turn up and we've won.
"Yeovil have knocked out numerous sides from higher divisions and will be confident of doing it again."
Shrewsbury's record v Yeovil
Shrewsbury currently stand second in League One, 39 places above Yeovil, who are 17th in League Two.
On the four occasions the two sides have met since Yeovil became a Football League club in 2003, the Glovers have won them all (in 2004-05 and 2012-13).
They have also met twice in the Football League Trophy - and on each occasion the home side has won. Shrewsbury, 2-1 at the Gay Meadow in October 2006; then Yeovil, 1-0 at Huish Park in September 2007.
Shrewsbury's best performance in this competition was to reach the final at the old Wembley in 1996, losing 2-1 to a Rotherham side containing Paul Hurst at left-back.
Reaching the semi-finals this season is the best Yeovil have done in this competition in their 15 seasons as a Football League club.
They won their one trip to Wembley, beating Brentford in the 2013 League One play-off final. They also won the 2002 FA Trophy final, the year before they became a league club, but it was played at Villa Park, as Wembley was under reconstruction.
'Treat them like it's Charlton'
All Hurst asks from his side is that they put in the same sort of quality performance they served up at The Valley on Saturday in beating sixth-placed Charlton Athletic to end a wobbly run of just four points picked up in their previous four league games.
"We looked a really good side," the 43-year-old added. "It was like watching the team earlier in the season.
"Providing the game is on, given the weather forecast, it sets us up brilliantly for Tuesday.
"It was a real effort from the players on the back of getting a little bit of criticism and looking as though they're lacking confidence.
"I had a few words with a few people during the week, to remember what had brought us our success earlier in the season.
"A lot of people would have expected us to drop points, but, of all the top four sides to win on Saturday, ours was the biggest win.
"Now we've got to approach Tuesday night like we're playing Charlton again."
Hurst has twice been to Wembley as a manager, when he was with his previous club Grimsby Town, who beat Forest Green in the 2016 National League play-off final, but then lost to Halifax Town a week later in the FA Trophy final.
Tuesday's winners will play Lincoln City in the final at Wembley on Sunday, 8 April.