Alfie Mawson: Swansea centre-back 'one of the best' in the league - Carvalhal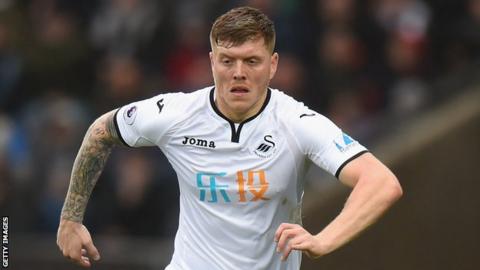 Swansea City's Alfie Mawson is "one of the best" centre-backs in the Premier League, according to Carlos Carvalhal.
However, the Portuguese manager would not be drawn on whether Mawson should play for England at the 2018 World Cup.
"He is one of the best central defenders in the Premier League, I'm absolutely sure, but I will not say if he deserves to go," said Carvalhal.
England boss Gareth Southgate was at the Swans' FA Cup draw at Sheffield Wednesday on Saturday.
It is believed he was there to watch Mawson - who is uncapped at senior international level - but the 24-year-old missed the game after injuring his knee during the pre-match warm-up.
Carvalhal said he would not want to comment on Mawson's international prospects regardless of his nationality.
"It is the same if someone asked me about a player from another team. I understand he is English but I don't want to give an opinion and interfere," said Carvalhal.
There were fears the England Under-21 international would face a long lay-off, but Carvalhal was relieved the news was not as bad as first thought.
"Alfie is okay. He is training normal and recovered as we expected and will be available for Saturday [against Brighton]," he said.
"He locked the knee but we put in the pin code and unlocked the knee.
"Maybe he forgot the pin code and it stayed locked?
"But after the game he felt better, he was mobilising the knee and didn't need any kind of support so that is why we can expect him to recover."