Drugs testing in football: Women's Super League testing must increase - Sue Smith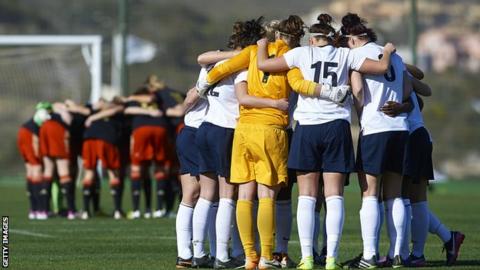 Drugs testing in the new full-time Women's Super League next season "has to be in line" with the men's game, says former England player Sue Smith.
Just 47 samples were collected from players in the women's top flight between 28 June 2016 to 3 June 2017.
In the men's Premier League, 1,171 samples were taken from 524 players.
The Football Association said tests in WSL 1 and WSL 2 will increase for the current season, but would not "disclose testing plans" for the new competition.
In a statement, the FA said it would "not be appropriate" as doing so puts the "integrity and success of the programme at risk".
However, UK Anti-Doping (Ukad) director of operations Pat Myhill told BBC Sport: "With the increase in funding from the FA and, as women's football continues to grow and professionalise, there is a commitment to ensure testing increases proportionally.
"Testing in the WSL has increased by around 50% in the last year alone."
The number of samples collected in 2016-17 by Ukad, which carries out testing on behalf of the FA, is up on the previous 12-month period, during which 36 samples were taken from 169 players to appear in Women's Super League One.
'Drugs testing is part of professionalism'
The FA have previously said that the restructuring of England's top division from next season can help it become the world's best women's league.
From 2018-19, the FA Women's Super League will be made up entirely of full-time professional clubs and could contain between 10 and 14 teams.
Smith, who won 93 caps in 14 years as an England international, recalls being tested four times during her career - twice in club football and twice on international duty - and says it is part of "the professionalism of the game".
When asked if she thought more testing was required, she said: "Yes. I think it has to be in line with what the men get tested.
"Everything else is going that way, with how professional the sport is becoming. Yes, players see it (drug testing) as an inconvenience, but it's simply something that has to be done."
Lindsay Johnson, a former England team-mate of Smith's who won a Women's FA Cup and League Cup with Everton, says more testing "comes as part and parcel of the game".
She told BBC Sport: "Personally, I haven't heard of anybody taking performance-enhancing drugs in women's football - but obviously it does happen (in life), so I think it (the number of tests) should be expected to increase.
"There's more opportunity for the girls to be tested because they're in-house, training a lot more than five or six years ago."
The FA added that their "anti-doping programme is adaptable to meet the demands of the growing game and is research and intelligence-led".
How do the WSL numbers compare?
Figures obtained by BBC Sport under the Freedom of Information Act covered the 2016-17 season in the men's game, which did not run parallel with the women's football calendar.
The time period covers half of the 2016 WSL season, including the latter stages of both the Women's FA Cup and League Cup, and the entire 2017 WSL Spring Series - a one-off competition which bridged the gap to a winter league season.
From the 20 clubs to feature in WSL 1 and 2 during that time, 81 samples were collected - 47 in the top flight and 34 in the second tier.
In comparison, in the German women's Bundesliga in 2016 a total of 135 samples (85 out of competition and 50 in competition) were collected, according to information provided by Germany's National Anti-Doping Agency.
You can now add WSL 1 notifications for line-ups, goals, kick-off, half-time and results in the BBC Sport app. Visit this page to find out how to sign-up.