Coventry City: MPs to hold debate on League Two club's future at the Ricoh Arena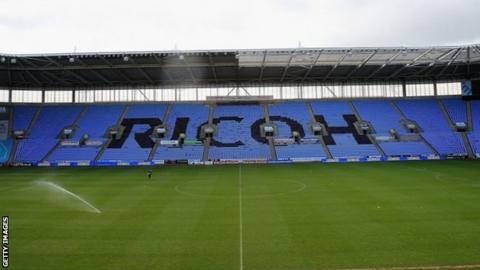 Coventry City's fan groups are showing a united front ahead of a parliamentary debate at Westminster on Wednesday on the League Two club's future.
City now have a deal with Ricoh Arena owners Wasps to stay on in their current home for the 2018-19 season.
But Marcus Jones, MP for Nuneaton and Bedworth, has arranged a debate regarding the continuing long-term uncertainty over the club's future.
Three other local MPs will join the debate at Westminster Hall.
Mark Pawsey (Rugby), Colleen Fletcher (Coventry North East) and Jim Cunningham (Coventry South), who first asked the minister for sport to talk to the Football League in 2013, will also voice their concerns.
And seven City supporters' organisations, Cov Fans Together, Diamond Club, Fight Till the Game Is Won, Jimmy Hill Way, Preservation Sky Blues, Sky Blue Trust and Twist 'n' Shout Fanzine have issued a statement backing the debate.
The Sky Blues are 10th in League Two, on 50 points, three points adrift of the play-off zone, after three consecutive league defeats.
Combined Sky Blues supporters' statement
"Supporters of Coventry City were pleased and relieved to learn on 9 February that arrangements to play at the Ricoh Arena had been extended until May 2019. However, undiminished concern remains about the long-term future after 2018-19.
"In announcing the deal, Nick Eastwood, CEO of Wasps, who own the Ricoh Arena on a long leasehold basis, made it clear that there would be no discussions regarding a longer-term agreement while obstacles remain in the form of legal proceedings involving Wasps and Coventry City.
"Supporters are anxious that there is no repeat of the situation suffered in 2013 when City stopped playing at the Ricoh and home fixtures were played at Northampton for 12 months, in front of very low attendances.
"There is no apparent viable alternative to the Ricoh within the Coventry area to fulfil home fixtures.
"We are therefore calling on the following parties to find an immediate solution to enable City to continue playing at the Ricoh on a long-term basis: Coventry City FC, which is operated by Otium Entertainment Group Limited and its parent company Sky Blues Sports & Leisure Limited, Sisu Capital Limited and its associated company Arvo Master Fund, owners of Coventry City, Wasps, Coventry City Council and the EFL.
"We are grateful to Mr Marcus Jones, MP and other parliamentary colleagues for debating this issue. We hope that their interest and concern will assist in bringing about a swift resolution to this deeply troubling matter for City supporters."