Wigan 1-0 Man City: Latics boss Paul Cook 'shut his eyes and prayed' during win
Last updated on .From the section FA Cup
Wigan manager Paul Cook said he had to 'shut his eyes and pray' as his League One side ended Manchester City's hopes of winning the Quadruple by beating them 1-0 in the FA Cup fifth round.
Will Grigg netted the only goal with 11 minutes left as the Latics repeated their win over City in the 2013 final.
The Premier League leaders had Fabian Delph sent off just before half-time.
"It feels great. It is such a severe test. They are such a strong side. We rode our luck at times," said Cook.
Speaking to BBC One, he added: "Our lads deserve credit for their work. Some of the blocks they made were outstanding and to beat Man City you have to do that."
City were reduced to 10 men in added time at the end of the first half.
Delph was shown the second red card of his career after sliding in for a 50-50 ball with Max Power. The challenge was robust but did not appear malicious, and it sparked a heated discussion between Cook and City counterpart Pep Guardiola.
Match of the Day pundit Jermaine Jenas said the decision was "strange".
Despite their numerical disadvantage, City had 83% of possession in the match and chances of their own, with midfielder Fernandinho shooting over from close range and striker Sergio Aguero drawing an excellent save from Christian Walton.
Asked what was going through his mind in the closing minutes, Cook said: "You just shut your eyes and pray, don't you?"
The full-time whistle sparked scenes of celebration from the home fans, many of whom ran onto the pitch to celebrate.
Guardiola congratulated Wigan, who will face Southampton in the quarter-finals on the weekend of 17-18 March.
The Spaniard added: "It was like a final. They had one shot on target.
"I don't have regrets with the way we played, the performance, the heart.
"I judge my players on intentions and not results and the intentions were good."
'A massive distraction'
Wigan are third in League One, three points behind leaders Blackburn Rovers with three games in hand.
They came into the City game having lost back-to-back league matches for the first time this season.
"Funnily enough, when the draw was made, no-one even texted each other," said Cook. "It was like we weren't in it.
"I am sure Southampton are as shocked as we are because they were probably thinking how disappointed they were to have to go to the Etihad.
"Fortunately for us all, that game will come around, and it is a fantastic game for everyone. We are a game away from Wembley. What an occasion it will be for us all.
"We have to concentrate on the league, and now the FA Cup becomes a massive distraction. But we are in it."
Scuffles mar cup tie
Cook and Guardiola exchanged angry words after Delph's dismissal - both on the touchline and in the tunnel.
Speaking after the game, Cook said: "There are no problems. From our point of view we are trying to get every edge and everything we can, and from his point of view he wants the game played and he is a fantastic manager."
Guardiola also played down the incident, saying "nothing happened".
There were unedifying scenes at full-time, too. Aguero was involved in an altercation with one of the many home fans who invaded the pitch, while advertising hoardings were thrown onto the field from the away end.
Wigan chairman David Sharpe told BBC Radio 5 live: "It is not nice to see. Football is emotional, it is what it does to fans. But I don't like to see this at the end of the game.
"It is a massive result, but we have to stay classy in football. I don't like what I am seeing here."
Analysis - 'Go with your decision'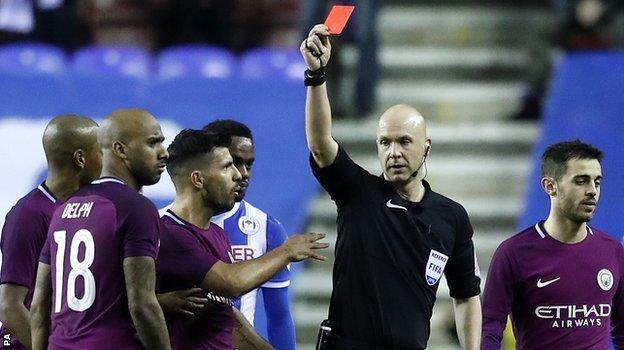 Former Premier League referee Mark Halsey on Delph's red card:
I thought it was a reckless challenge, and rightly a caution. I thought, 'you've got this spot on'. You can clearly see the yellow card out, and the referee writing Fabian Delph's name and number on the card, and getting ready to issue it. To my amazement, he then puts the yellow card away and reaches for the red.
At that level, don't do that. If you're not sure, don't give a card, give yourself some thinking time. For me, once you've got it out, rightly or wrongly, you've got to go with your decision.
He's on the elite group of Uefa referees. If he did that in the Champions League, I don't think he'd referee again in it this season.
For a referee of his experience to do that... it just shouldn't happen at that level.
It's different if he hadn't pulled the card out, if he's getting information from his colleagues. Once he's got that yellow card out he's got to go with that, he can't then put it away after writing he name down. It's just basic refereeing.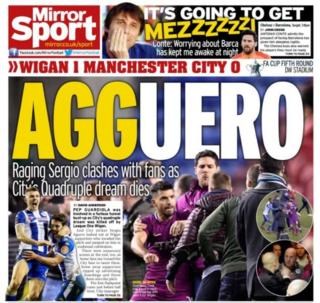 Mirror