Jess Fishlock: Midfielder delighted by historic Grand Final win
By Michael Pearlman
BBC Wales Sport
Last updated on .From the section Wales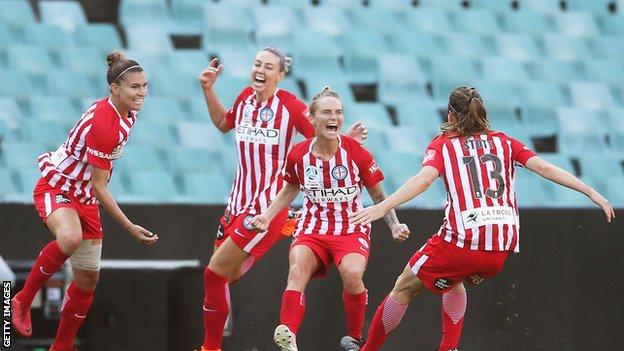 Midfielder Jess Fishlock says Sunday's historic Grand Final victory for Melbourne City is a career highlight.
Fishlock, 31, was the player of the match as Melbourne beat Sydney 2-0 in front of a record crowd to win a third successive Grand Final.
Simply winning the tournament for a second time in 2017 was unprecedented.
"It is very hard to stay the best consistently; you rarely see a side anywhere in the world win three titles in a row," Fishlock explained.
Wales midfielder Fishlock, who also plays for Seattle Reign, produced a fine display in the final, scoring a first-half screamer before setting-up Jodie Taylor for the second with a sumptuous free-kick.
Fishlock, who also works as an assistant coach at Melbourne, says the dedication shown to win a third title shows the professionalism of her team-mates.
"I don't like to lose! I am a bit of a sore loser to be honest," she told BBC Sport Wales.
"To win it three times is unprecedented - it has not been done in Australia in a football sense. I don't think many teams can win it back to back to back, it is very hard to do at the elite level.
"It is a huge testament to the girls and the club. They have invested in women's football and they have been rewarded for that.
"The group we have at Melbourne City would do well in any league in the world.
"With the group we have put together we want to win and should win, but actually doing it is something very different, you need a mental and a physical strength."
Fishlock, who last year celebrated her 100th cap for Wales, admits that playing a starring role in front of a record crowd is another career highlight for her.
"I can't do what I do without my team, a lot of our team played very well but I got the goal and helped to set up the other one and I am obviously very happy with that, to get the 'three-peat' is a very special feeling," she said.
"Moments make memories, it is the moments, I had a very good one last year with Wales getting 100 caps and it is the moments you remember.
"You do remember the games and the score, but what you remember most is the moments you create like this and it's a great moment.
"Ten years ago playing women's football there was nothing, truly nothing and now I am playing football at this level and can see how far the women's game has come, it's really nice."
You can now add WSL 1 notifications for line-ups, goals, kick-off, half-time and results in the BBC Sport app. Visit this page to find out how to sign-up.