Champions League: Chelsea should fear new-look Barcelona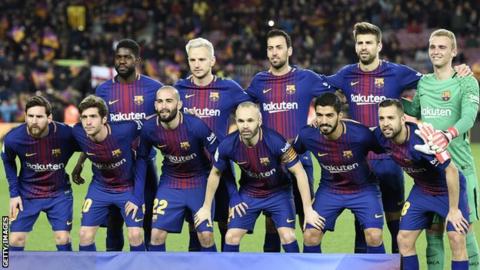 Champions League last 16: Chelsea v Barcelona
Venue: Stamford Bridge Date: Tuesday, 20 February Kick-off: 19:45 GMT
Coverage: Live commentary on BBC Radio 5 live and BBC Sport website
It's nearly 16 months since Barcelona last faced English opposition, and a lot has changed at the Spanish giants since their emphatic 3-1 defeat at Manchester City in November 2016.
That defeat offered an accurate representation of Barca's strengths and weaknesses at the time - they produced some sparkling attacking football to take the lead but were ultimately undone by a lack of defensive structure that allowed City to run riot in the second half.
Those deficiencies meant then manager Luis Enrique endured a disappointing final season in charge, with his side surrendering the Spanish title to Real Madrid and exiting the Champions League in the quarter-finals.
But that all feels a long time ago, with the new and improved Barca vintage, under Ernesto Valverde, determinedly hunting down another league, cup and European treble.
They may not be producing the same kind of flowing football as in the Pep Guardiola era, but - as they prepare for Tuesday's Champions League visit to Chelsea - they are looking good. Very good.
Is Messi's Chelsea drought due to end?
Chelsea fans could be forgiven for wondering what all the fuss is about when it comes to Lionel Messi, because the Argentine has failed to score in any of his eight previous games against the London club - the most he's played against any team without scoring.
In fact, the last meeting between the teams resulted in one of Messi's greatest personal disappointments as he missed a crucial penalty in the second leg of the 2012 semi-final at the Nou Camp, with the Blues going on to win the competition in Munich.
Messi also has a poor record against Chelsea goalkeeper Thibaut Courtois, who went six games without conceding against the Barca talisman during his final season with Atletico Madrid in 2013-14 - a campaign that ended with Atletico beating Barca to the title on the last day of the season and knocking them out of the Champions League.
But surely records like that are only meant to be broken by players with the quality of Messi, who is heading into this week's game in fabulous form having already scored 27 goals in all competitions this season.
Not only is Messi the top scorer in La Liga - his 20 goals helping his team establish a seven-point lead - but he's also first in the assists charts with 11 goals created - mostly for Luis Suarez.
The only opponent capable of stopping Messi, it sometimes seems, is the woodwork - he has hit the post or crossbar 15 times. So perhaps Courtois can call upon the help of an extra 'defender'.
Stopping Alba would help
The departure of Neymar to Paris St-Germain necessitated a tactical change, and Valverde has settled on a 4-4-2 formation.
It allows Messi - for the first time in his career, really - to play as a traditional number 10 behind centre-forward Luis Suarez. It is a role known as the 'enganche' in Argentine football.
The main beneficiary of Neymar's departure and the subsequent change in formation is left-back Jordi Alba, who had a drastic dip in form last season to the extent he was often omitted from the starting line-up.
The absence of Neymar created a gap on the left wing, and Alba has filled it superbly - especially in his understanding with Messi, who routinely delivers angled passes over the opposition defence into the path of Alba, then looks for return passes.
Barcelona's 5-0 cup thrashing of Celta Vigo last month provided a particularly vivid demonstration of their almost telepathic understanding: the first two goals were scored by Messi after passes from Alba, who then netted the third after benefiting from the Argentina forward's glorious assist.
Alba has been credited with eight assists so far this season, and seven of those have been for Messi, making it clear just how potent their partnership has become.
The opposing left-back might not seem like the most obvious attacking threat for Chelsea to contain, but Alba's endless reserves of energy allow him to effectively play as a winger and a full-back at the same time, and it will be essential for the Blues to cut out his exchanges with Messi.
Umtiti key to 'impassable wall'
During the second half of Barca's cup victory over Valencia earlier this month, one player's name was chanted long and loud by the Nou Camp faithful.
Not Messi. Not Suarez. Not even a homegrown favourite such as Andres Iniesta, Sergio Busquets or Sergi Roberto.
Instead, the man being saluted was defensive lynchpin Samuel Umtiti, who was turning in yet another impeccable performance alongside Gerard Pique, brushing off Valencia's forwards with disdainful ease.
France centre-back Umtiti, who was signed from Lyon in 2016, has finally succeeded where many others have failed in becoming a convincing long-term replacement for former skipper Carles Puyol, and his emergence was a key factor behind Javier Mascherano's departure to China last month.
Another individual to shine is goalkeeper Marc-Andre ter Stegen, an agile shot-stopper whose hugely confident ability with the ball at his feet makes compatriot Manuel Neuer look clumsy by comparison.
The consistency of Umtiti and Ter Stegen, the continued excellence of Pique, and a much stronger overall structure have allowed Barca to enjoy a superb campaign defensively. They have conceded only 11 goals in 24 league games - keeping seven clean sheets in their past 10 outings - and let in just one in their six Champions League group games.
Respected journalist Albert Masnou, who writes for Barcelona-based newspaper Sport, recently claimed the team's new-found defensive dominance is the biggest key to their success this season.
"The front pages are usually given to those who score goals," Masnou wrote. "But for the key to Barcelona's situation you have to look in defence. Valverde has succeeded in turning his defence into an impassable wall."
Understated Valverde on record-breaking pace
The man responsible for overseeing Barca's outstanding campaign is Valverde, who was recruited from Athletic Bilbao in the summer.
The former Barca forward - he played alongside Gary Lineker at the Nou Camp - is a calm and softly spoken individual, whose appointment was initially met with a degree of scepticism. But he has quickly become a hugely respected figure among Barca fans.
The most notable aspect of Valverde's achievements has been his ability to instil greater balance between defence and attack. Last season they sometimes looked like eight players defending plus 'MSN' (Messi, Suarez, Neymar) attacking. Now Barca function as a coherent collective all over the pitch.
Valverde's game management and use of substitutions has also been outstanding, evidenced by a remarkable record in the second halves of games - since the opening day of the league campaign, Barca have scored 61 goals after the break and conceded just seven.
Suarez told Sport: "The coach knows how to read the games well and we adapt ourselves to what happens on the pitch and the circumstances of play."
Valverde has also been praised by club legend Xavi.
"The team has regathered itself and that's much to the merit of Valverde," he said in an interview with Radio Monte Carlo. "He has done an extraordinary job and given the team an identity."
The results speak for themselves. Saturday's 2-0 win at Eibar meant Valverde's squad equalled the record set by Guardiola's team in 2010-11 by going 31 league games unbeaten.
Guardiola, of course, went on to complete the treble that season. With his team already through to the Copa del Rey final and cruising in La Liga, Valverde has his sights set on the same objective.
Dembele could have X-factor
Barring injuries, 10 members of Valverde's starting XI at Stamford Bridge are set in stone: Ter Stegen will be in goal behind Alba, Pique, Umtiti and Roberto; the midfield will contain Busquets, Iniesta and Ivan Rakitic, and Messi will partner Suarez up front.
The identity of the other player in midfield, however, is not certain.
Former Tottenham man Paulinho is favourite, especially for the away leg, with his physical power and defensive attributes edging him ahead of more attacking options such as Paco Alcacer, Andre Gomes, Denis Suarez and outsider Aleix Vidal.
Philippe Coutinho is cup-tied after playing for Liverpool in the group stage, but the club's other mega-money signing, Ousmane Dembele, is available after recovering from a hamstring injury.
France winger Dembele has had a hugely frustrating season since his £135.5m summer move from Borussia Dortmund, only completing 290 minutes of action because of injuries.
On his rare outings, Dembele has looked out of place, clearly not yet in sync with his team-mates' methods and looking equally likely to beat two defenders with an electrifying burst or give the ball away with a badly misplaced pass.
In a largely predictable set-up, however, Dembele has a big role in the next few months, using his pace and dribbling ability to create something out of nothing and destabilise opposing defences.
Not even Dembele's team-mates know what he'll do next, never mind the opposition, and although he will almost certainly be restricted to the bench at Stamford Bridge, he remains a tantalising option to provide a dynamic attacking spark - if it is needed.